A 'shag a ginger' club night in Ireland has been cancelled after angry parents accused it of being racist.
The controversial event was due to take place on 8 October at Pulse nightclub in Letterkenny, Donegal.
DJ Ginger Nuts was scheduled to spin the decks and there was to be a free condom giveaway.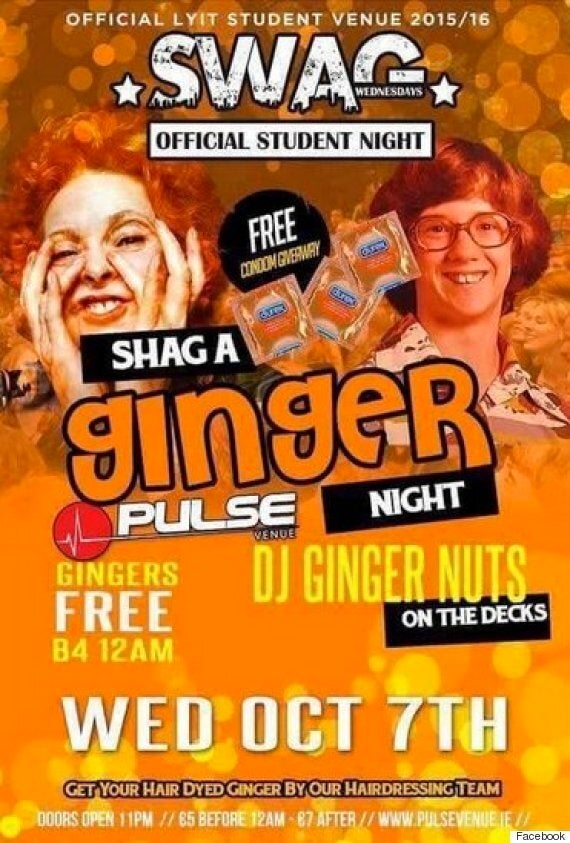 The clubs promotional poster for the event
Even hairdressers were arranged to be on site to give party-goers an orange makeover.
One mother named Donna told a local news outlet the event was 'derogatory and demeaning' and said Pulse should issue a public apology.
"Redheads have been the butt of jokes for a long time. Many in my family have red hair and it's really derogatory. You wouldn't see a black or Asian night and this seems every bit as racist as that," she claimed.
The event caught parents attention after its promotional poster was shared on the club's Facebook page.
Despite the poster reading 'Official LYIT Student Venue 2015/16', Letterkenny Institute of Technology's SU have distanced themselves from the event, claiming it was separate from the college.
An SU spokesperson told local news: "The Student Union logo is not present at all in this, the student union have not promoted this event at all and yet the SU is to blame. This is not an LYIT Student Union event, this is a business event."
After the controversy across social media, Pulse released a statement which read: "Given recent controversy surrounding a promotional poster advertising the event, the management have removed it and wish to make it clear it was not their intention to cause insult or offence to anyone."