Sir Richard Branson has been unveiled as the latest high-profile name backing a vote to stay in the European Union, warning Britain should not be an "island to ourselves".
The Britain Stronger in Europe campaign, which wants the UK to remain in EU in the referendum promised by Prime Minister David Cameron, officially launched today against a speech by former Marks and Spencer boss and campaign chief Sir Stuart Rose and a video featuring a powerful line-up of business figures.
Apprentice star Baroness Karen Brady and Innocent Smoothie founder Richard Reed also featured in the clip, in which Sir Richard argued: "Being part of Europe means we are part of one of the biggest trading blocs in the world. So the bottom line is that we are much stronger being a part of Europe than being an island to ourselves."
Meanwhile, Green MP Caroline Lucas, who sits on the Britain Stronger in Europe board, told HuffPost UK she didn't see "eye to eye" with all the business bosses involved and questioned the lack of environmental emphasis in the launch.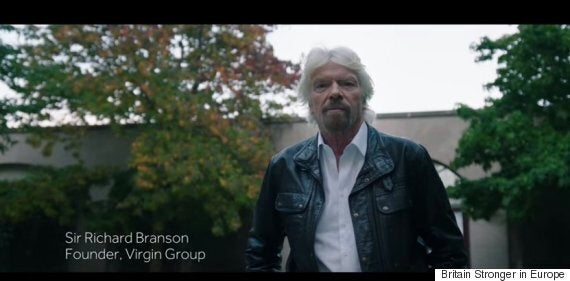 Virgin boss Sir Richard Branson today said Britain cannot be "an island to ourselves"
Ms Lucas was frustrated by the lack of talk about environmental issues or workers' rights during the launch.
Speaking to the Huffington Post UK after the presentation had finished, she said: "That's exactly why I need to be here and that is my job with this board.
"That's why I've joined the board because I think this issue of staying inside a reformed EU is too important to leave to the business as usual voices if you like. I am passionate about making a much more progressive radical case for staying inside a reformed EU. I'm a member of the board and I'll be using that position to be making that case at every opportunity.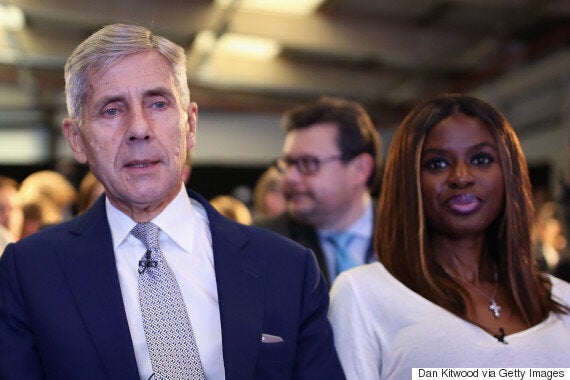 Former Marks and Spencer's boss and the current chairman of the 'Britain Stronger in Europe' campaign Lord Stuart Rose prepares to speak during a press conference, with TV presenter June Sarpong, at The Truman Brewery
"There wasn't enough [positivity]. I make no bones about the fact that I don't see eye to eye with the vast majority of people that I'm sitting on the board with on many other issues except for the fact that I do think we are better off inside a reformed EU. That is the point I want to make. This is not simply the business of men in grey suits from business, and to be fair they did at least do their bit to ensure there was more of a variety. You had the young woman from the students, you had some different voices, but overall you're right we need to make a much stronger environmental and social case for staying inside a reformed EU and that's exactly why I've joined the board to try to make that case.
"It's a real danger and that's why I feel so passionately about it, and that's why I've taken the somewhat controversial decision to have one foot in this camp so I can try to influence it. It's crucially important that this doesn't get narrowed down to a debate about cheaper roaming charges or about cheaper flights. It needs to be about values about what we believe the EU to be fundamentally about. It needs to be about the story of who we are as a nation as well. That's the way to bring young people with us, that's what they car about not the cost of their roaming charges at the end of the day."
Popular in the Community