Islamic State (IS) is the prime suspect in the Ankara bombing that killed at least 97 people at the weekend, Turkey's prime minister has said.
Ahmet Davutoglu said the attack was "definitely a suicide bombing" and pinned the blame on the Islamist terror group that has taken over swathes of Syria and Iraq.
Two explosions ripped through a peace rally, which called for an end to violence between the Turkish military the militant Kurdish party the PKK, in the Turkish capital on Saturday and rally organisers have said they believe the actual death toll is 128.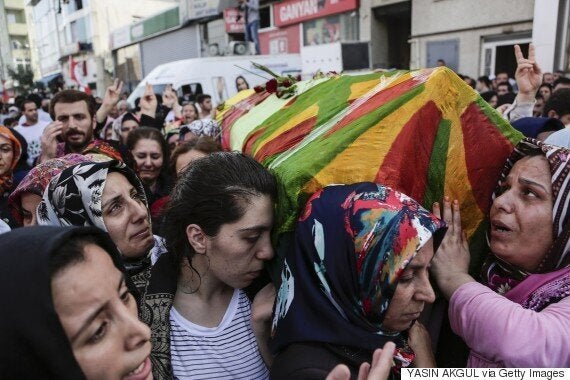 A funeral of one of the victims in Istanbul on Monday
IS, also known as ISIL or ISIS, controls territory very close to Turkey's border.
Davutoglu told Turkish television: "If you consider the way the attack happened and the general trend of it, we have identified Islamic State as the primary focus.
"It was definitely a suicide bombing... DNA tests are being conducted. It was determined how the suicide bombers got there. We're close to a name, which points to one group."
According to Reuters, a man wounded in the explosion called out "stop" just before the bomb detonated, having seen a bomber who was carrying a bag on his back and one in his hand.
Davutoglu also said he believed the attack was an attempt to influence the country's general election, scheduled for November 1.
In July, Davutoglu blamed another suicide attack on Suruç, a town near the Syrian border, on IS.
Suruç is across the border from the Syrian town of Kobani, where IS fighters were defeated by Kurdish rebels.