The chilling reconstruction shows the destruction of the aircraft, in which all 298 occupants on board were killed.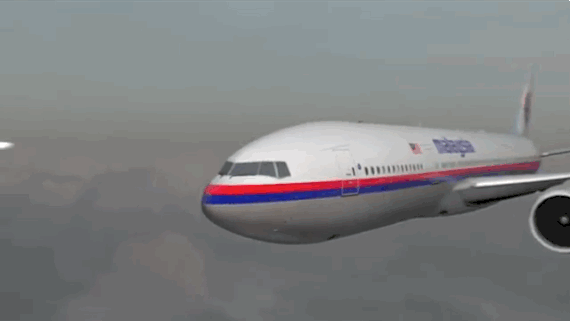 The animation reconstructs the final moments of the flight
In the report it claims: "The weapon system used was identified on the basis of, among other things, the damage pattern on the wreckage, the fragments found in the wreckage and in the bodies of crew members, and the way in which the aircraft broke up.
"The findings are supported by the data on the flight recorders; the Cockpit Voice Recorder picked up a sound peak during the final milliseconds. In addition, traces of paint on a number of missile fragments found match the paint on parts of a missile recovered from the area by Dutch Safety Board."
Dutch investigators also concluded that the impact of the blast killed the three crew members immediately, and left the aeroplane scattered in pieces across the air.
Despite the thorough findings of the Dutch investigators, the missile's Russian maker presented its own report trying to clear the separatists, and Russia itself, of any involvement in the disaster.
Russian state-controlled Almaz-Antey contended that its experiments -- in one of which a Buk missile was detonated near the nose of an airplane similar to a 777 -- contradict that conclusion.
The weapons company also released a video to present its findings into the disaster, denying claims it was involved:
The experimental aircraft's remains showed a much different submunitions damage pattern than seen on the remnants of MH17, the company said in a statement.
Almaz-Antey in June had said that a preliminary investigation suggested that the plane was downed by a model of Buk that is no longer in service with the Russian military but that was part of the Ukrainian military arsenal.
It said the experiments also refute claims that the missile was fired from Snizhne, a village that was under rebel control. An Associated Press reporter claims to have seen a Buk missile system in that vicinity on the same day.
Popular in the Community