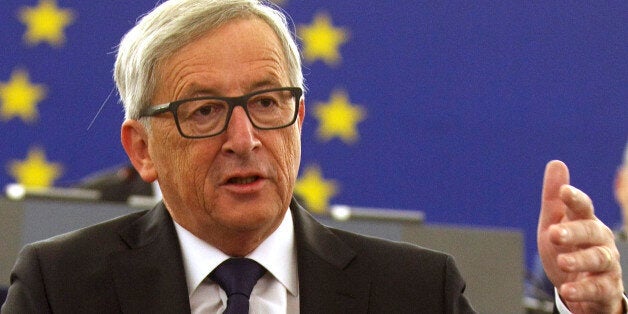 The president of the European Commission has delighted eurosceptics after he appeared to say Britain did not need to be a member of the European Union.
Speaking in the European Parliament on Wednesday, Jean-Claude Juncker said: "I am 150% in favour of having Britain as a constructive member state of the European Union. We need Britain."
"Personally I don't think Britain needs [the] European Union. But as a matter of conviction others may have a different feeling on that."
However English is not Juncker's first language and there is some dispute over whether the Luxembourg-born politician said "do" or "don't" - a small change which entirely changes the meaning of the sentence.
Juncker's office has insisted the commission president said "do" and reports that he said "don't" are inaccurate.
However Nigel Farage immediately seized on the remark and offered to buy Juncker a bottle of champagne.
You can watch the comment below.
A gleeful Farage said: "I want to buy Juncker some champagne. I have always had a personal liking for Jean-Claude Juncker even though we have political differences. His statement today that personally 'I don't think Britain needs the European Union' is spot on."
The dispute over what was said was also examined on Sky News. With presenter Kay Burley and reporter Mark Stone disagreeing.
Stone said he thought Juncker said "do" - but revealed he was deaf in one ear. Burley shot back at him with a grin: "which ear are you deaf in?"
Ukip's deputy chairman Suzanne Evans told The Huffington Post said Juncker had " fully realised what he said" and was now trying to "backtrack like crazy".
"Junker has finally said what the sensible among us have known all along: Britain doesn't need the European Union to access the single market and it certainly doesn't need the EU to nanny the UK into oblivion.
"We can make our own laws, make our own trade deals, and make our own way in the word, independently of the EU but with the whole of Europe as our greatest friends and trade partners."
And Vote Leave, one of the groups campaigning for Brexit, said: "In the last two days both the chairmen of Lloyds and JCB have said the UK could thrive outside the EU. It is encouraging to see that Jean-Claude Juncker also agrees.
"The choice for the public is clear. If you think Britain will be stronger if we keep giving more power and money to the EU, then you should vote 'remain'.
"If you think Britain will be stronger and safer if we end the supremacy of EU law, take back control, and can vote for the politicians who make our laws, then you should Vote Leave."
David Cameron's renegotiation of Britain's membership of the union is set to begin in earnest in December. He will then put whatever new deal he gets to the public.
The prime minister is expected to advocate Britain remaining a member, while a significant number of Tory MPs are expected to argue in favour of Brexit.
Popular in the Community