A Warwick University student has taken a stand against sexual consent courses, saying he does not need to be taught about rape - and does not "look like" a rapist.
George Lawlor, a politics and sociology student at Warwick, has raised some hackles after penning a blog for student site The Tab, which explained his anger at being invited to consent training lessons.
"Let me explain, I love consent," Lawlor writes. "Like any self-respecting individual would, I found this to be a massive, painful, bitchy slap in the face. To be invited to such a waste of time was the biggest insult I've received in a good few years.
"It implies I have an insufficient understanding of what does and does not constitute consent and that's incredibly hurtful. I can't stress that enough."
Lawlor, who is online communications secretary at his university's Conservative society, continues: "I don't have to be taught to not be a rapist.. I already know what is and what isn't consent..
"I want to call the people leading the charge behind these classes admirable, I want to call them heroic, but I'm afraid they're not. There are countless other more useful things they could be doing with their time."
He adds: "Self-appointed teachers of consent: get off your fucking high horse. I don't need your help to understand basic human interaction. Secondly, go and do something. Real people need your help and they deserve better than you."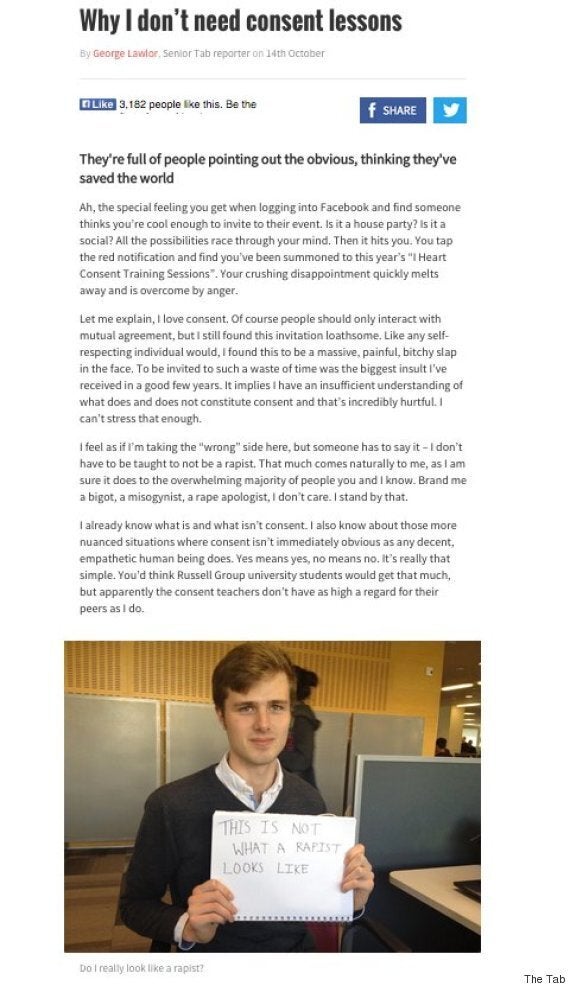 An extract of Lawlor's blog, which appeared in the Tab
One Warwick University student, who wished to remain anonymous, told HuffPost UK: "I found the article written in the Tab to completely miss the point of the campaign for consent on campus. It's about education and making campuses safer environments for everyone.
"The issue of rape is around the issue of perceieved 'blurred lines' and what some find to ambigious when it comes to what constitutes as consent. When 1 in 5 women are sexually assaulted it seems crazy to tell those who are taking steps to endeavour to lower that figure to 'get off your high horse'."
Speaking to HuffPost UK, Lawlor said: "The piece was about getting people to talk and to think about the issue as much as it was about me expressing my own opinion on it, so I'm happy that on the most part people are debating."
Others have expressed their distaste for the blog on Twitter:
However some have expressed their understanding for Lawlor's opinion.
One comment underneath the article reads: "This is so incredibly upsetting to read; you have completely missed the point.. the people who commit them probably don't look like the 'foul predators' you are imagining. They look like you, or me, or any of your friends; often their actions are stupid and opportunistic."
Another simply asked: "How can you look like a rapist? wtf is that."
Related