Russell Brand caused a spectacle at a New Zealand television newsroom after stopping in unannounced, before demanding an interview and force-feeding a female reporter a cupcake.
Initially it was reported that the comedian reportedly stopped into TVNZ's central Auckland headquarters on while out on a run. However, it later emerged he had earlier been at mass at St Patrick's Cathedral and had asked a fellow church-goer to take him to the "nearest TV station" as he hadn't organised any publicity for his shows.
His behaviour at the state broadcaster was as bizarre as his outfit on Tuesday. He wore running shorts over jeans, a travel belt bag, and a purple t-shirt.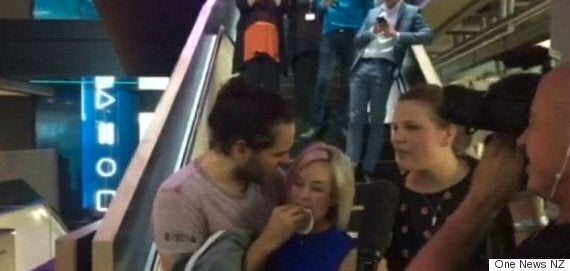 Russell Brand force-feeds TVNZ Breakfast reporter Selena Hawkins a cupcake
In a shakily filmed video, One News NZ journalist Matty McLean details his surprise at the impromptu visit saying: "Um, so the weirdest thing has just happened.
"Russell Brand literally has walked in off the street and offered us an interview."
Breakfast reporter Lisette Reymer was first to oblige Brand, giving him a tour of the newsroom.
She said: "He wanted to see where all the life was in the newsroom."
Reymer asked him a string of questions. He answered none. Of the experience she said Brand was: "Very physical, very full on, very intense, very hard to focus, a free spirit, everything you would imagine him to be except taller."
During his whirlwind appearance Brand took a shine to Breakfast's traffic reporter Selena Hawkins. He took her hand then muscled in on her live report.
Brand said: "Has there been a congestion? Has there been some fumes coming out of the bath? What's going on in the fog, what's going on in the smog? Welcome to Auckland, there's been incredible congestion, there's an incredible suggestion."
He then lifted a cupcake to her mouth, remarking first that she was "too tiny". Hawkins indulged him and took a bite.
"Well done! Because I imagined you'd have an eating disorder", Brand can be heard joking in footage shared on the television network's website.
Hawkins evaluation of Brand: "He was intense, crazy and a bit creepy."
Brand was then mobbed by bow-tie-wearing reporter Tim Wilson from Seven Sharp, another show on the network. A debate then ragged on what show Brand liked better.
Popular in the Community