A man has risked his life to save a stranger's dog from a house fire, in a random act of kindness.
The pooch - named Sampson - was left inside as flames engulfed the roof before the mystery man jumped out of his car to save him.
Neighbours watched in awe as the stranger returned a few minutes later carrying the 80lb Bouvier breed, wrapped in a blanket.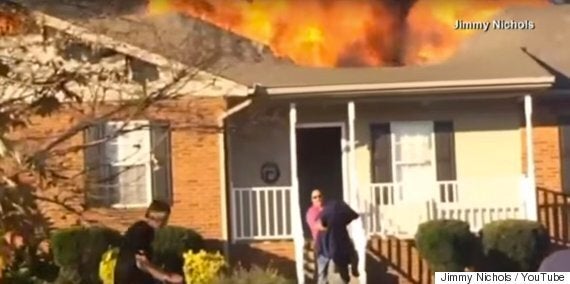 The man ran into the house to save the stranded dog
The hero has since been revealed as Tim Tawater, a firefighter with the Nashville Fire Department.
Tawater, who lives in Tennessee, said he had been on the way to his daughter's birthday on 11 October, when he spotted the thick acrid smoke coming from the house fire.
He told local news: "I didn't do it for people to say 'thank you.' I did it because it needs to be done."
The video was filmed by witness to the event, Jimmy Nichols, who said: "This guy in a gray Mustang pulls up says, 'I do this for a living,' and he runs in and he comes out about two minutes later with this beautiful dog in his arms.
"Afterwards he got in his car and he left; it was so weird, he just took off. Literally 30 seconds after that guy got out, that roof collapsed."
Investigators said the cause of the fire is not suspicious and likely started in the attic. Unfortunately, three cats that were inside the home have still not been found.