A police officer has been shot in Hackney, east London, and a man has been arrested at the scene following an operation by the Trident gang crime unit.
According to reports from the scene, near Queensbridge Rd, the male officer is "conscious and breathing" and has been taken to hospital where he is thought to be in a stable condition. His injuries are not thought to be life threatening.
Police have released a short statement confirming a shooting had occurred during a planned operation. It read: "At around 12:45hrs on Thursday, 15 October an authorised firearms operation by officers from the Met's Specialist Firearms Command (SCO19) and Trident Area Crime Command was taking place in Scriven Street, E8 when a firearm was discharged.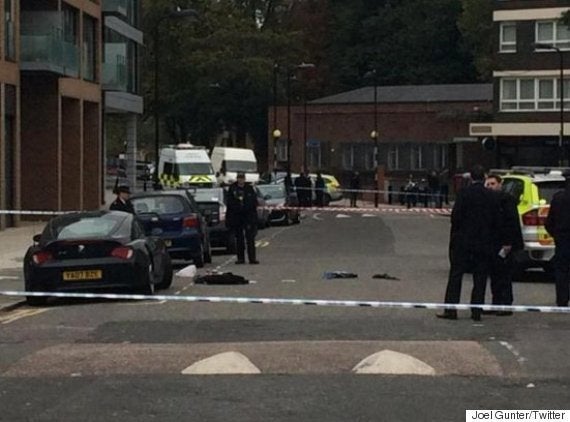 A police officer is said to be in a stable condition in hospital after being shot near a Hackney estate
"A male police officer, no further details at this time, has been taken to an east London hospital suffering a gunshot wound. Next of kin have been informed.
"There are no reports of any other injured persons at this time."
Witnesses reported hearing gunfire after officers entered the estate supported by police dogs and helicopters.
Businessman David Silvester, 28, was in his flat in City Mill Apartments overlooking the crime scene when the incident began to unfold.
"These arms officers with helmets turned up with dogs then moments later there was a couple of gunshots. I've then seen them running down the road, running through the estate.
"A nearby car seemed to have an undercover officer in it. And she was just shouting, 'he's been shot, he's been shot!'
"Then there was a huge amount of police in helmets and a helicopter landed in Haggerston Park."
The shooting comes weeks after a man was shot dead in broad daylight on a busy street in Hackney, on September 26. The victim was reportedly targeted by a gang of assailants and slumped to his death in a nearby shop.
Roads between Queensbridge Road and the A10 are currently closed and drivers have been advised to avoid the area.
Popular in the Community