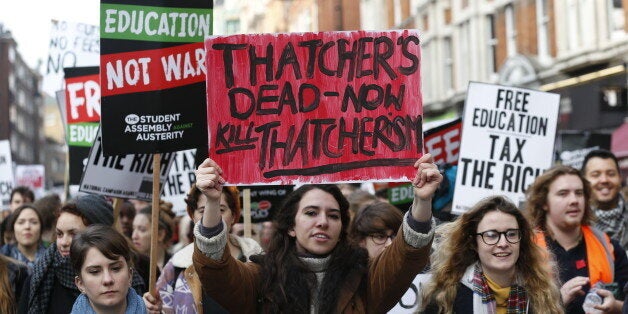 Those hit by a trebling of tuition fees failed to wield their strength at the ballot box, researchers discovered, adding that a drive by Labour's new leader to drastically boost voter registration rates among students would do little to improve his party's performance.
A stronger than expected Conservative vote share, collapse in support for the Liberal Democrats and the diminished allure of a Labour pledge to lower the university fees cap all contributed to students' poor political weight, the Higher Education Policy Institute study said.
The "most striking example" of their lack of effect was in Loughborough, where Education Secretary Nicky Morgan secured the 16th biggest increase in Conservative votes nationwide.
That success came despite her being particularly vulnerable to an average pro-Labour swing in the 17,000 student-strong constituency.
Only one of the six Tory seats forecasted to shift from Conservative to Labour because of the student vote actually did change hands - Lancaster and Fleetwood.
Analysts from the institute warned against Corbyn investing too much energy in improving voter registration rates among students, cautioning: "It may not make much difference to the Labour cause."
"I want to start with a fundamental issue about democratic rights for Britain," he told a packed hall of delegates.
"Just before Parliament rose for the summer the Tories sneaked out a plan to strike millions of people off the electoral register this December. It means two million or more people could lose their right to vote.
He vowed: "From today, our Labour Party starts a nationwide campaign for all our members to work in every town and city, in every university as students start the new term, to stop the Tory gerrymander. To get people on the electoral register."
But in light of his comments, researchers said that while the drive to register thousands more young voters was "good for democracy", it would make little difference to the Labour cause.
"Overall, students are not currently as electorally powerful nor as different to other voters as has generally been assumed," they concluded.
Popular in the Community