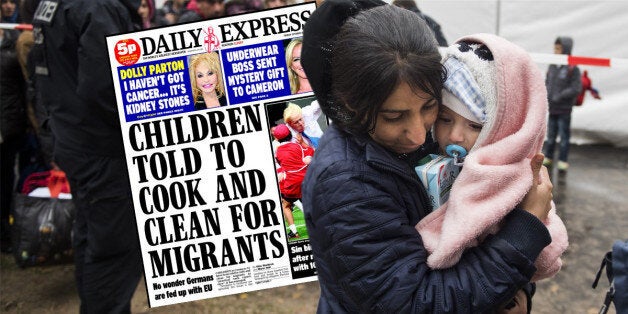 Friday's Daily Express led with claims that schoolchildren in Germany had been made to cook and clean for migrants as part of a work experience scheme.
The paper found teenagers as young as 13 were spending five hours a day "tending to those handed free bed and board in a town besieged by refugees".
It also reported the reaction of parents who were upset at the prospect of their children taking part in enforced "servitude" in aid of migrants arriving in the country.
But the Express failed to mention that the entire project was the idea of the pupils themselves after they were joined in class by a young refugee.
The students were spurred into action after meeting their classmate and developed the idea of providing assistance to migrants living in the town.
A spokesperson for the Kiel Ministry of Education confirmed that the idea for the scheme came from the students themselves, after they wanted to use the school's work experience programme to help the children of migrants moving into the town.
The Ministry told HuffPost UK that the pupils were encouraged to offer help after a young refugee joined their lessons.
Under the headline "Children told to cook and clean for migrants", the Express claimed that pupils were forced to work for migrants as "practical work experience".
It reported anger amongst parents who have taken to social media to complain about their child's involvement in the scheme.
But the paper doesn't mention the fact that parents' express permission was sought before pupils could take part.
It now appears that an image of the permission letter went viral as part of the reaction against the initiative.
The Express quoted a "furious mother" who wrote the post above on Facebook: "I am super-tolerant, but this is taking the matter a bit too far. Is there a new discipline at school which is called servitude?"
It also carried a quote from Ukip deputy leader Paul Nuttall, who said he feared for the children's safety.
Ukip has yet to respond to a request for an update in light of the facts.
The Daily Express declined to comment when approached by HuffPost UK.
Popular in the Community