The high-profile Christian and commentator made the comments as the Daily Express published a critical story about the BBC's Songs of Praise filming at the Calais migrant camp.
Speaking to The Huffington Post UK he said: "The Tory press make a big deal about this being a Christian country. And then they hate it when Christianity is put into action.
"They really ought to make their minds up. Songs of Praise from the camp in Calais is love thy neighbour in action."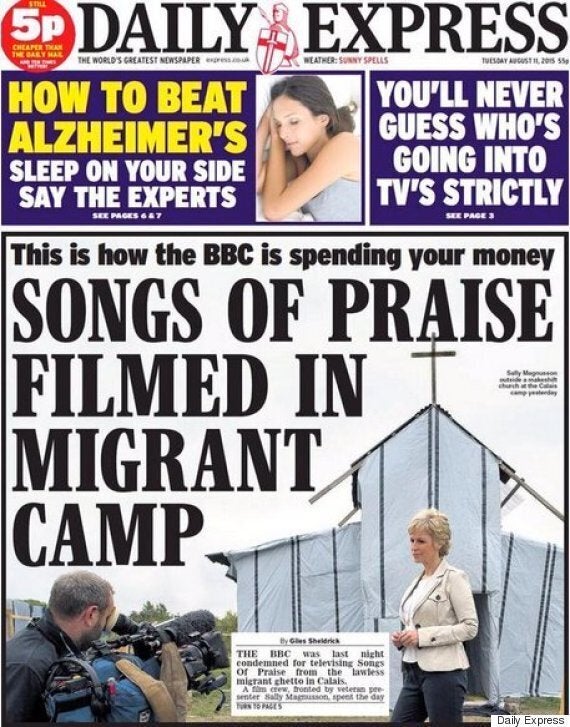 The Express' front page on Tuesday, which prompted criticism
Fraser also advised porn media owner Desmond to remain on "safer ground with Asian Babes than giving morality lessons".
He accused the Express of instituting a "Christians in Love They Neighbour scandal", a reference to one of the Bible's Ten Commandments.
Earlier in the day he retweeted a comment from the Conservatives Party's leader in Scotland, Ruth Davidson, who wrote: "Props to Sally Mag & all at the BBC Religious Progs Dept. 'For where 2 or 3 gather in my name, there am I with them.'"
A backlash over Tuesday's Express front page comes after an MP told The Sun last week the decision to broadcast an episode from Calais was an "insensitive thing to do".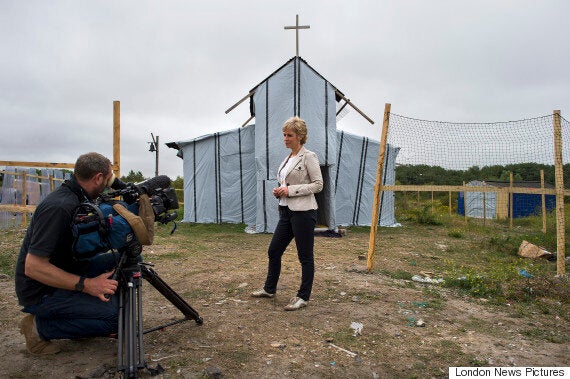 Presenter Sally Magnusson pictured with TV camera crew
Andrew Rosindell, MP for Romford, said: "The BBC should be careful not to start looking as if they are making political points out of this."
The Express has refused to comment on criticism of its news story.