Two teenagers are among five people arrested in connection with sex attacks on children in Delhi.
In two horrific separate incidents, a two-year-old and a five-year-old were both assaulted in the latest in a spate of attacks.
Two 17-year-old boys have been arrested in over the rape of a two-year-old in the west of the Indian capital.
The child was snatched while playing outside her home during a 10-minute power outage.
She was dumped in a park, where she was found by family members.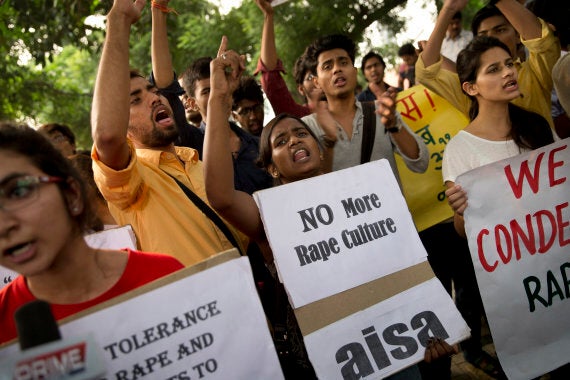 Anger is mounting over sexual violence in the Indian capital
Meanwhile three men were detained over the gang rape of a five-year-old in the east of the city.
Last week a four-year-old was also attacked.
The increase in sexual violence has caused widespread anger, with the city's chief minister Arvind Kejriwal accusing the federal government, which controls policing, of not doing enough to protect women and children.
In December 2012, the fatal gang-rape of a 23-year-old medical student on a moving bus led to a national outcry.
In response to that attack, the government doubled the maximum prison term for rape to 20 years, created special courts to prosecute cases more quickly, and made voyeurism and acid attacks specific crimes under the law, the Associated Press reported.
But despite the new laws, India's National Crime Records Bureau says more than 2,000 girls and women were raped in New Delhi in 2014.
Related