As far as bird-brained ideas go, this is a good one.
Having already tattooed his face and eyeballs so he looks more like his beloved parrots, Ted Richards, 56, underwent surgery to have his ears removed to further his transformation.
The operation took six hours to complete and Richards couldn't be happier about the results. It is unclear what his five feathered friends make of the transformation.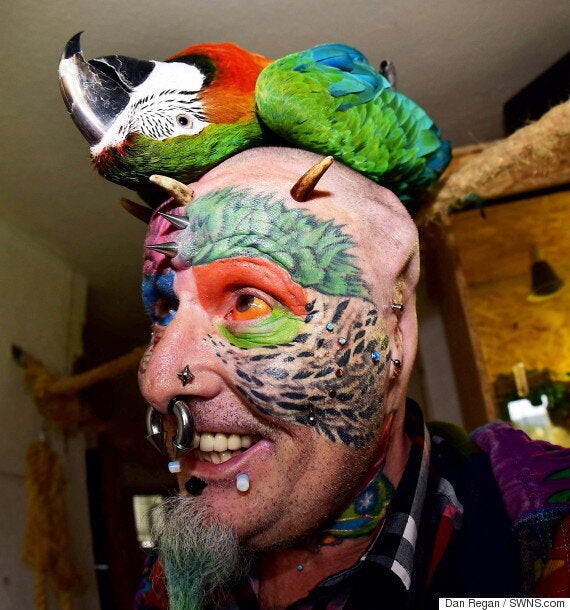 Ted Richards had an operation to remove his ears so he looked more like his pet parrots
"I think it looks really great. I love it. It's the best thing that has happened to me. I am so happy it's unreal, I can't stop looking in the mirror," Richards told South West News Service.
"I've done it because I want to look like my parrots as much as possible. I've had my hair long for so many years my ears have been covered up."
The Bristol resident said he used to be teased about his ears when he was younger, but insists that's not the reason why he went under the knife.
The only downside to the operation was that at first the retired shoe factory worker had trouble keeping his glasses in place. However, he soon found a solution, by adding two metal pins to the side of his head.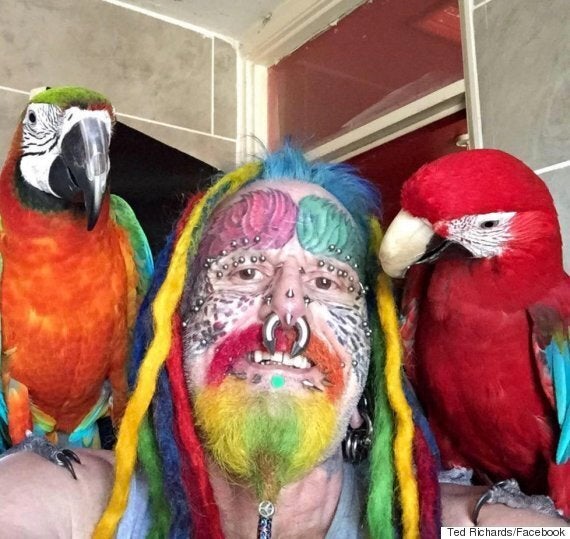 Richards before his operation with rainbow-coloured dreadlocks
Richards joked to SWNS: "I went to the supermarket the other day and when I went in I said 'Blimey, it's so windy out there it blew my ears off,' and everybody had a chuckle."
Richards, who has over 110 tattoos, 50 piercings and a split tongue, has given his severed ear tissue to a friend who "will appreciate them," and has set his sights on another flight of fancy: finding a surgeon who can turn his nose into a beak.
Marc Pacifico, a consultant plastic surgeon and member of the British Association of Aesthetic Plastic Surgeons, was horrified the surgery had taken place.
He told Metro: "I am absolutely horrified to learn that someone has voluntarily put themselves forward for this to be done and possibly more so that he found somebody to actually carry it out."
Richards, who not surprisingly is known as Parrot Man, also shares his home with a South American green iguana and called Iggy, and pitbull terrier Candy.