The five things you need to know on Monday October 19, 2015...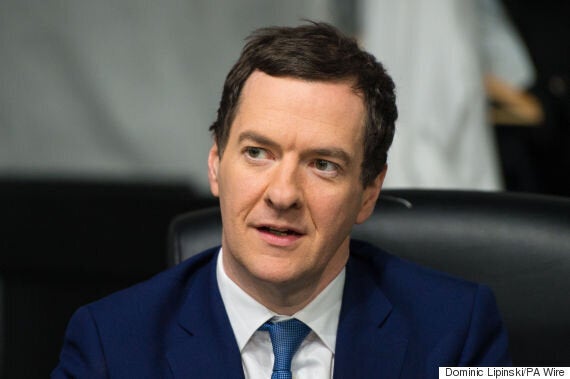 Wavering Tory MPs are this week being called in for No.10 and Treasury chats to reassure them about the tax credits cuts policy. Those chats may well be more nuanced than the firm line being put out by Downing Street and the Chancellor's team. A Downing Street source tells the FT today: "We are not going to move on it all. We are steadfastly committed to this whole policy. No caveats." That fits with the staunch noises Treasury sources have been issuing for weeks.
But ministers are even putting an arm around some crossbenchers in the Lords and there's good reason for that. HuffPost has learned that a leading crossbencher is being lined up to table a 'fatal motion' to the tax credits statutory instrument when it comes up next Monday. The motion is expected to be tabled this week, part of a wider strategy of blocking the plans in the Lords and then using a Frank Field backbench debate in the Commons a week later to set out an alternative.
One leading name being considered is Baroness (Molly) Meacher, a former social work expert who has forced Government defeats on welfare before. At one stage, even former Cabinet Secretary Lord O'Donnell's name cropped up but I'm told he's not interested. The bishops may turn out, but tax credits campaigners won't this time have GOD (Gus's nickname) on their side...
'Fatal' motions are rarely deployed in the Lords because they are a last-resort nuclear weapon to stop a piece of secondary legislation and peers have for years been wary of overstepping their powers. But two factors are in play: Labour and the Lib Dems have an in-built anti-Tory majority, and both point out that tax credits cuts were not in the Tory manifesto. If enough crossbenchers turn out too, next Monday could see the cuts stopped in their tracks.
Of course, the SI could then be reintroduced again and again, but the Lords could block it again and again too. The Lords aims to judo-throw the Treasury over its attempt to curtail scrutiny in the Commons. Instead of putting the cuts in the Finance Bill, they were curiously put in an SI that would allow only 90 minutes debate and a swift Commons vote. Frank Field tells me tax credit cuts could be fatal to Osborne's chances of becoming PM, undermining his 2020 'strivers' strategy.
Few expect the Treasury to back down but other ways of easing the pain are being urged (possibly with a fresh bump in childcare?) by worried Conservatives. Tory MP Flick Drummond told Radio 4's Westminster Hour last night that she would look 'very carefully' at Field's plan: "We've all heard from constituents who are worried. Quite a lot of us are concerned about the impact on particularly low income families." Referring to the Autumn Statement, she added: "I think there's going to be a big swell of opinion that will want something to happen to alleviate it." Let's see.
As for Labour, yesterday wasn't a triumph as John McDonnell had to use Twitter to clarify his party would reverse the tax credits cuts. And it has to explain where it would get the £4.4bn savings elsewhere. Meanwhile, Mike Gapes aka TwitterRambo, is on the warpath with 38 Degrees after it wrongly claimed he and other Labour MPs had voted for the cuts.
2) XI GELS, WE SELL, OSBO'S XI SURE
David Cameron this weekend gave an interview to China Central Television (the wonderfully named CCTV) in which he said that UK-Chinese relations were currently enjoying a 'golden era'. President Xi Jinping, who lands tonight for his state visit, told Reuters "this is a visionary and strategic choice that fully meets Britain's own long-term interest".
The big deal expected this week centres on Chinese investment into the Hinckley nuclear power plant, as well as other infrastructure projects. George Osborne has been aggressively wooing the Chinese ever since relations were plunged into the deep freeze following the PM's meeting with the Dalai Lama in 2012. The Chancellor is more sure than ever that trade with China is crucial to the UK's future and despite recent economic troubles, that 6.9% annual growth figure is still impressive. The PM wants to gel with President Xi, who in turn is very, very keen on ordering fish and chips while meeting the people this Thursday.
Not that this is all plain sailing. The Times splashes on plans by GCHQ to ensure the Chinese cyber systems in any nuclear plants aren't a threat. Bernard Jenkin rightly wonders what happened to the security review that was floated last year when the Chinese plans emerged. I mentioned last week that Jeremy Corbyn could enhance his patriotism credentials by raising this issue. And today Shadow Energy Secretary Lisa Nandy has told the Guardian this is "not just about putting our energy security, but actually putting our national security potentially at risk as well". Expect Labour to step up calls for the Government to tackle China on steel dumping too, particularly after Redcar and a new Tata steel job loss threat.
Steve Hilton didn't pull his punches in the Observer yesterday: "Surely we should be fighting corruption in the world, not feeding it with fat contracts that filch the earnings of British taxpayers to fund the lavish lifestyles of sleazy Chinese elites."
Corbyn will not raise human rights concerns at the State Banquet after having won a private meeting with the Chinese instead. As China's ambassador to London put it on Marr: "The British people are very gentlemanly in these situations and know how to behave."
As an aside, I'll note that both the In and Out EU referendum campaigns may well seize on the PM's line in his CCTV interview that China is keen on "having access to a country that is a leading member of the EU".
The Telegraph splashes on a report that six Cabinet ministers have privately demanded to be allowed to campaign for Brexit in the run up to the EU referendum. Amid weekend claims that the PM is set to 'purge' his ministerial team next year to avoid any splits, the paper quotes on minister saying it would be 'insane' to expect them to campaign to stay in the EU.
No.10 hasn't made its mind up yet as to whether collective responsibility should be suspended once the PM has completed his renegotiation. But the Tel, which points out that the ministerial code was tightened last week on collective responsibility, has a source close to Cam warning that "newspapers would be lining up to create lists of cabinet ministers on either side".
Michael Fallon was certainly defiant on Marr yesterday: "I think we're all eurosceptics now. I don't see any eurofanatics around the cabinet table."
As it happens, the BBC reports that ministers have also been told to shut up about Heathrow as well as Brexit, with one being amazed to get a letter from the Cabinet Secretary in the run-up to party conference warning them off the topic.
Theresa May gave Sir Jeremy Heywood her full backing on the Today programme just now, pointing out anything said could leave the Government open to judicial review: "It's right that Cabinet ministers are not speaking about it publicly."
Heywood meanwhile has given an interview to Civil Service World in which he expresses frustration at his gagging reputation, pointing out he has decided to allow Chilcot to publish a Blair-Bush memo, as well as Cabinet minutes. The interview took place before the Mail on Sunday's latest leaked Colin Powell memo which declared "On Iraq, Blair will be with us should military operations be necessary"
BECAUSE YOU'VE READ THIS FAR...
David Cameron is today rolling out his new counter-extremism strategy (with Theresa May manning the early airwaves). Most of the plans are well known, so papers have naturally seized on the line that hate preachers will be treated like paedophiles and banned from all contact with children.
Our intelligence and security agencies are facing a daily battle to combat the propaganda put out by ISIL and others. Yet among the biggest battles the PM faces are over his revival of the 'snooper's charter' on data surveillance, not least as upto 40 Tory MPs (the 'Runnymeade Tories') aren't keen on the investigatory powers bill plans. There are also big issues about the fact that this is a counter-extremism not a counter-terrorism strategy, and defining what's meant by 'extremism' could be a vexed debate.
The new power for parents to ask for their 16 and 17-year-old children's passports to be blocked may be more symbolic than anything. Mrs May told BBC Radio 5 Live the passport measure had only been used by "a small number" of parents since July. She accepted that in some cases it was parents themselves who were choosing to take their children overseas to join terrorist groups. She told Today she didn't want any 'unintended consequences'.
Andy Burnham says that Labour will support legislation that is "reasonable and proportionate" but stressed the party had a duty to make sure the government gets the balance right. He warned Cameron to proceed with the utmost caution and make sure his laws do not fuel "resentment, division and a sense of victimisation", especially among Britain's Muslim population.
Meanwhile, the Guardian reports that police cuts or 'resource reprioritisation' could be behind the fact that offences relating to cannabis fell by almost a third between 2011/12 and 2014/15.
The UN's chief environment scientist Prof Jacquie McGlade has given an interview to the BBC's Roger Harrabin and it doesn't make pretty reading for 'the greenest Government ever' (copyright, D Cameron). A Brit who now lives in Kenya she says African states are showing much more enthusiasm for renewable energy than the UK and claims that in the run up to the Paris conference on climate change we are sending out the wrong messages.
"What's disappointing is when we see countries such as the United Kingdom that have really been in the lead in terms of getting their renewable energy up and going - we see subsidies being withdrawn and the fossil fuel industry being enhanced."
There's no doubt there's been a change of tone led by George Osborne, but the Tories argue that subsidies needed better targeting. The fact is that Tory backbenchers don't like the aesthetics of either onshore wind farms or solar farms. But when it comes to overseas aid, ministers are in fact pumping money into some interesting renewable schemes.
Amber Rudd is due to 'reset' the UK's energy policy soon. Seen by many as Osborne's big ally, green groups worry that she won't be strong enough or experienced enough in Whitehall terms to protect her department from big cuts. But maybe, rather than being 'bullied' by Osborne, she actually agrees with much of his approach...?
There's a Citizen's UK demo outside the Foreign Office today over claims that a cleaning company sacked staff who had asked Philip Hammond to look at their pay, the Tel, Times and Guardian report.
EVEL's back this week and overnight the Procedure Committee has found the Government's plan for 'English votes for English laws' is "over-engineered and potentially burdensome" and should be piloted.
If you're reading this on the web, sign-up HERE to get the WaughZone delivered to your inbox.
Got something you want to share? Please send any stories/tips/quotes/pix/plugs/gossip to Paul Waugh (paul.waugh@huffingtonpost.com), Ned Simons (ned.simons@huffingtonpost.com), Graeme Demianyk (graeme.demianyk@huffingtonpost.com) and Owen Bennett (owen.bennett@huffingtonpost.com)
Popular in the Community