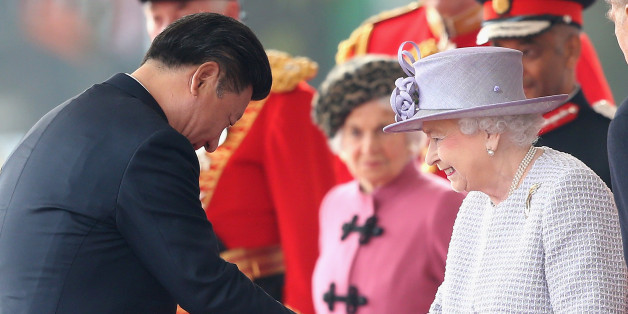 Chris Jackson via Getty Images
Today, two unelected heads of state met to have lunch.
Today Cameron's gov't does appeasement 21st century style https://t.co/VvDJU0lkql #XiJinping #Tibet #uygurs, #humanrights

— Harry Leslie Smith (@Harryslaststand) October 20, 2015
No expense was spared to make them feel special.
What utter hypocrisy, everything but everything is hidden behind state pomp and ceremony!! Talk about #SellingOurSouls #ChinaStateVisit

— Yvonne Anne Bolton (@frederickone) October 20, 2015
Lots of people came out to see them.
Protestors and supporters line The Mall as Chinese President Xi Jinping met the Queen. #ChinaStateVisit #HeartNews pic.twitter.com/TOCFo4XhBG

— Heart London News (@HeartLondonNews) October 20, 2015
All of the carriages processing down the Mall are closed ones. Supposedly in case of bad weather, but also in case of eggs? #ChinaStateVisit

— Gordon Rayner (@gordonrayner) October 20, 2015
SEE ALSO:
One of the heads of state has a much bigger state than the other head of state.
The dollar signs in their eyes make UK investors & politicians blind to China's human rights abuses https://t.co/VwmjXch1jF #ChinaStateVisit

— Georgie Johnson (@georgiefjohnson) October 20, 2015
I'm pretty sure this is how Command & Conquer Red Alert 2 ended... #ChinaStateVisit pic.twitter.com/wVeCfvzy1D

— Joshua Murray-Nevill (@JoshuaMurrayNev) October 20, 2015
It came on the same day the two states had one less thing in common.
By throwing UK steel jobs on the bonfire, the Tories have become the party for working people ... in #China #ChinaStateVisit

— Tim Lezard (@TolpuddleTim) October 20, 2015
How flat Tory rhetoric about being "the party for workers" sounds now they're refusing to challenge Xi over steel imports #ChinaStateVisit

— Henry Bird (@henrybirdtweets) October 20, 2015
Unfortunately they didn't have time to cover everything.
Human rights abusers WELCOME! Victims of human rights abuse: sorry we are full. #ChinaStateVisit #refugeecrisis

— Kate O'Sullivan (@KateEOSullivan) October 20, 2015
#ChinaStateVisit we will uphold human rights.... Ooh shiny money

— Harry Hamilton (@harryhamilton00) October 20, 2015