Halloween wouldn't be quite right without one household going that extra mile...
And this year is no exception: For Creative Lighting Displays have orchestrated a seventh synchronised illumination for its annual Halloween celebration.
The group are using a house in California to perform the spectacular array of lights, which this year comes with a fitting Ghostbusters theme.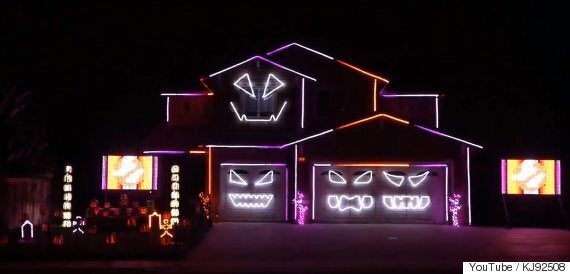 This house takes Halloween to the next level
The shows attract visitors far and wide, with hundreds lining the streets to catch a glimpse of the horrors. This year road closures are planned during viewing times, to ensure it all goes to plan.
On a Facebook post, the group shared times for its displays in the lead up to Halloween, with many users responding with excitement.
Facebook user Kiana Enriquez wrote: "Went to the 8 30 one with fiance and kid cousin. I see it on YouTube each way was nice to see it in person! So worth the 1 hr 20 min bus trip."
While one over-excited person commented: "OH MY GOD. THEY'RE DOING IT AGAIN THIS YEAR!! WE *HAVE* TO GO."
However not everybody is in the ghoulish spirit about the shows and last year the illuminations had to be cancelled after its opening night, because of noise complaints from neighbours.
To ensure a smooth run this year the creator behind the project, Kevin Judd, received a permit and plans on running shows only on the weekends.
"I think we did it right this time. We went and got permits first and talked to our councilman, Paul Davis," he told local news.
To watch more of the illuminations, go to the Creative Lighting Displays website here.
Popular in the Community