Labour narrowly lost a vote calling on the Government to scrap its plans to cut tax credits for millions of families tonight, with no Tories supporting the motion.
Despite a number of Conservatives, including Plymouth MP Johnny Mercer and South Cambridgeshire MP Heidi Allen, speaking out against the proposals, no Tories voted with Labour.
The motion was defeated by 317 voted to 295, giving a majority of 22 to the Tories.
The Treasury has given no hint that it will water down the cuts, claiming the £4billion in savings which it will deliver is needed to reduce the spending deficit.
Speaking after the debate, Labour's Shadow Chancellor John McDonnell said: "David Cameron needs to listen to MPs in his own party on the tax credit cuts, Heidi Allen is following other Tory MPs like David Davis, Boris Johnson and many more who are waking up to what Labour has been saying – it's simply not fair to make families £1,300 a year worse off to pay for tax breaks for the few.
"The Tories risk following the Lib Dems in breaking pre-election promises to the British people, and voters won't forget the broken promises made during this year's election campaign any more than those made by the Lib Dems on tuition fees in 2010."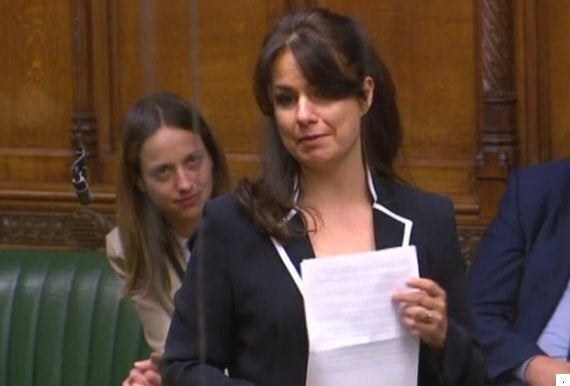 Conservative MP Heidi Allen
The highly emotional debate on the proposals, which think-tank the Institute for Fiscal Studies estimates will leave millions of families at least £1,000 a year worse off, went on for four and half hours.
She warned that cutting tax credits now before wages had risen would plunge the vulnerable into debt and poverty.
Ms Allen said: "For many, every day living is hand-to-mouth. Madam deputy Speaker, I suspect you and I could weather such a transition, period we could pull our belts in, but many of the families affected by these proposed changes do not have this luxury. choosing whether to eat or heat is not a luxury. And that is the reality I am talking about."
Mr Mercer also spoke against his own party's plans, and said: ""My duty, and indeed our duty is to shout for the most vulnerable.
"Those who through no fault of their own find themselves on the fringes of society, those who through a bit of bad luck, a couple of wrong decisions can be any one of us."
He urged Mr Osborne to do "something, anything" to water down the impact of the cuts on those affected.
Some Tories backed the measures, with ex-Chancellor Ken Clarke claiming this was the best time to reform the tax credit system.