The five things you need to know on Tuesday October 20, 2015...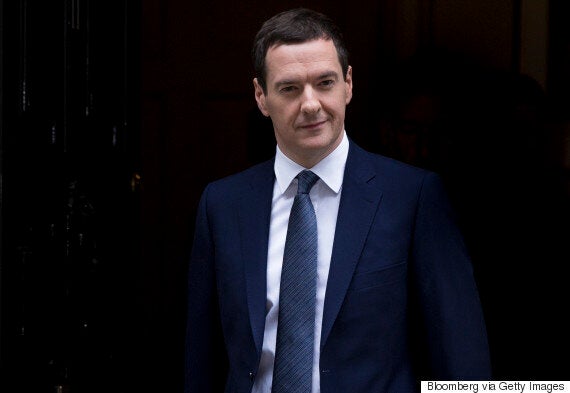 1) THEY SAY CUTBACKS, HMT SAY FIGHTBACK
It's the Opposition Day debate on tax credits and Labour is urging Tory MPs to take a stand. Given this is a non-binding vote, it's doubtful many, if any, Conservatives will want to defy their whips despite their worries about the impact of the changes. But that doesn't mean this is in the bag for the Tories. Tory MP Lucy Allen is calling for a tax credit hardship fund, while others are seeking to extract concessions from the Treasury in return for support.
At 2.30pm, the Backbench Business Committee will hear from Frank Field on his case for a debate - and a vote - on his alternative plan for tax credits, to be held sometime in the next few weeks. George Osborne has little time for the Field plan to change tapers and thresholds, believing it is not 'cost neutral' as the Labour MP claims.
The Chancellor yesterday had a gaggle of Tory MPs in for a briefing, telling Peter Aldous and others that there was no alternative that would yield such big savings. The Speccie reports that Osborne asked: 'do you really want to start raiding the police budget, the health budget, or other pots of money for seriously vulnerable people?' He repeated his line under close questioning from the left and right of his party at the backbench 1922 committee last night.
And what's notable is the way Osborne and No10 last night became more robust in the face of opposition. 'They say cutbacks, we say fightback' is the joke among some Osborne supporters, inverting that old lefty demo slogan. The Treasury issued its own analysis claiming tax credit changes to date had saved £15bn since 2010.
And yet, as I've reported, the real roadblock could be the House of Lords and its fatal motion plan. I hear the motion is set for Wednesday or Thursday and crossbencher Baroness Meacher made plain on Wato yesterday her opposition. "I feel it is important to make a stand," she says.
The fact that the Lords can kill off a statutory instrument is not lost on some. The government is liable to be "clever fools when it comes to their parliamentary tactics", David Davis tells the FT. A brand new SI will be needed in the Commons if the Lords does vote against. As if to underline some in Government see this as a political virility test for Osborne, I've been told that if the Lords goes ahead ministers could retaliate by suspending the Upper House altogether or flooding it with peers. This whole row would no longer be about tax credits but about unelected Lords overstepping their powers, furious Tories warn. They are also questioning whether the Lib Dems have the stomach for the fight.
Much of the internal Tory criticism is about the sequencing of the tax credit cuts not the principle of them: many think the cuts should take place as wages rise in the economy not beforehand. Lord Tebbit tells The Times "it depends how far and fast you want to go with this...Clearly there should be transitioning." Too far, too fast? Reminds me of someone..Ed Balls yesterday took up a new visiting professorship at King's College London, to teach 'the Treasury and economic history since 1945'. He, more than anyone, could perhaps teach the Chancellor on Gordon Brown's handling of his own 10p tax disaster.
Tax credit campaigners should be aware that Osborne wants more spending cuts, not fewer. The Guardian points out that he chaired the first meeting of the Cabinet public expenditure (PEX) committee yesterday - and some departments (FCO, Home Office) have yet to submit final bids for the spending review. The Treasury is upbeat though, redirecting DfiD cash and speeding up devolution.
President Xi and his wife are getting the full treatment and today is mainly about pomp and ceremony. There is some politics however today as he delivers an address to both Houses of Parliament and everyone will watch to see if there are any pointed messages or if it will be a safe series of bromides.
Jeremy Corbyn has his own private meeting with President Xi today and oh to be be a fly on the wall. The Labour leader will raise not just human rights but workers' rights. Don't forget strikes and picketing are illegal in China. Amnesty, Tibetan groups and others will be out in force today in St James' Park. When I was in the US last month, pro-Xi supporters drowned out Tibetans with sound systems playing Communist songs. Today, the Guardian reports pro-Xi drummers will not be allowed by the Royal Parks to use their drums - for that most British of reasons that no unauthorised 'entertainment' is allowed in the parks.
Despite all the security worries, note Michael Fallon's emphasis in Defence Questions yesterday on the controversial new nuclear plant for Hinckley Point, saying "It is a French-designed reactor and a French-built power station, and it will be supported by Chinese finance."
The Sun has a 'Sweet n Sour' splash, pointing to the upside of a £30bn investment bonanza but the downside of ministers ignoring a 60-year campaign by Royal Navy vets to get medals for a secret mission on the Yangtze river in 1949. Philip Hammond told Today that the UK was entering its new relations 'with eyes wide open'.
President Xi doesn't have to worry about the ballot box, and neither does David Cameron directly any more. But George Osborne will be more conscious than most of the way Canadian PM Stephen Harper overreached himself with the shock election of Justin Trudeau (whose party was in third place at the start of the election) overnight. Corbynistas are already pointing out Trudeau ran on a platform of running a deficit and investing in infrastructure....
In politics and economics alike, sometimes it never rains but it pours. The British steel industry is undergoing an imperfect storm right now as the SSI Redcar job losses are set to be followed by the collapse of Caparo and a new prospect of Tata axeing jobs in Scunthorpe and in Scotland. The TUC estimates that one in six British steel workers are facing job losses.
And of course the timing couldn't be worse for the Chinese state visit. After some diplomatic dancing by No10 earlier in the day, David Cameron confirmed in the Commons that he would mention steel dumping by the Chinese. "Of course we will raise all these issues...All of these issues will of course be discussed" he told Jeremy Corbyn yesterday. Cameron was less forthcoming to Tom Blenkinsop on why European global adjustment funds weren't being used.
Of course it's that 'open economy' that the Chancellor boasts about that is in some ways the target and this morning steel industry experts have been wondering why we aren't more like the Germans in having a national strategy to allow plants to supply home-produced steel for other industries and uses. That would however mean some kind of protectionism or tariffs.
On Today Philip Hammond pointed out 'the big problem' of surplus steel but said 'it isn't only the Chinese'. He added that Jaguar LandRover needed cheap steel to export to places like China 'we've got to get the balance right, we can't simply build a wall around the UK'
The Mirror has launched a Save Our Steel campaign, pointing the threat to the 'Northern Powerhouse' rhetoric. Let's see if there are any Urgent Questions on this today.
BECAUSE YOU'VE READ THIS FAR...
Norman Warner has been on the Today programme setting out why he quit the Labour party last night (his resignation letter was a Guardian scoop). He questioned the 'bizarre' nature of Corbyn's election as well as his refusal to learn the lessons of the May election. He said that he had no plans to join another party, saying he would remain a left of centre 'social democrat'.
But it's the reaction to his departure that has been striking. The LabourLords Twitter feed pointed out "Ld Warner did not resign Group Whip - he lost the privilege having resigned his membership of the Party." It then added an emoji of a waving 'bye-bye' hand.
Owen Smith on Newsnight said:"He's been leaving Labour for quite a while; I'm not sure we'll miss him too much". Warner denied that this morning, telling Today: "A friend of mine said last night, you haven't left the Labour party, the Labour party has left you. If it doesn't change itself very rapidly, it doesn't have a hope in hell of winning the general election in 2020 or indeed in 2025".
John Prescott's tweet was perhaps the most damning: "A minister you've never heard of who wanted to charge people £10 a month to use the NHS. No credibility. No great loss."
Yet Mark Ferguson summed up the wider anger, pointing out that the people who should be most angry about Warner's departure were Labour 'moderates', many of whom have chosen to stay and fight their corner against Corbynistas.
Warner was an adviser nor just on health (and later a health minister) but also before that Jack Straw's adviser for many years. I wonder what Straw thinks?
A week after one of the stormiest PLPs in living memory, Team Corbyn will be happy that attention was more on Osborne's meeting with the 1922 Committee instead last night. Indeed in a key move to reassure Labour MPs, he appointed Rosie Winterton to head up the party's boundary review response and reiterated in a statement that he wanted to make it 'crystal clear' he opposed reselection rule changes. But still, worries linger about the Left making inroads at grassroots level: this one hasn't gone away.
The FT reports on its front page that the Governor of the Bank of England will make a speech tomorrow night. Nothing too new about that. But what's different is that he will be outlining the findings of a report into the impact of leaving the EU on the bank's financial and monetary responsibilities.
And crucially, the pink 'un says Carney's intervention was "encouraged by Downing Street and is designed to set the scene for the referendum debate over the coming months". It's not every day the FT says someone will make 'a dramatic intervention' in the EU referendum debate, but that's how it pitches it today.
He will limit his remarks to the bank's role in monetary and financial stability but that won't stop the critics saying it's part of an Establishment plot to scare the punters. The BoE's work on Brexit was originally a secret but it blew its own cover last summer by accidentally emailing to the Guardian its Project Bookend plan.
Hammond said that any EU renegotiation had to be 'substantial, binding and irreversible'. Let's see how or if each of those three tests is met.
If you're reading this on the web, sign-up HERE to get the WaughZone delivered to your inbox.
Got something you want to share? Please send any stories/tips/quotes/pix/plugs/gossip to Paul Waugh (paul.waugh@huffingtonpost.com), Ned Simons (ned.simons@huffingtonpost.com), Graeme Demianyk (graeme.demianyk@huffingtonpost.com) and Owen Bennett (owen.bennett@huffingtonpost.com)
Popular in the Community