A Conservative MP has used her first ever speech in the House of Commons to call for George Osborne to abandon his plans to cut tax credits.
Heidi Allen accused the chancellor of "betraying" Conservative values and having "forgotten" what the party should stand for by taking money away from working people.
"Change is not always a sign of weakness, it can show strength," the Cambridgeshire South pleaded with Osborne.
It is highly unusual for a backbench MP to devote their entire maiden speech to a criticising one of their party leadership's flagship policies.
Osborne is under pressure from several Tories as well as the Labour Party to ditch or at the very least soften the impact of the cuts. However the Treasury is robustly rejected the pressure, insisting the savings are necessary.
MPs will hold a symbolic vote on the changes this evening. Speaking in the debate, Allen said she had been avoiding making a speech in the Commons but could "sit on my hands no longer".
"I became an MP to stand up for the vulnerable, to lead the way for those too tired to find it for themselves, that is the role of government too," she said.
"Conservatives pride themselves of living within their means, of cutting their cloth. But what if there is no cloth left to cut? How many of us really know what it feels like? How many have walked in those shoes?"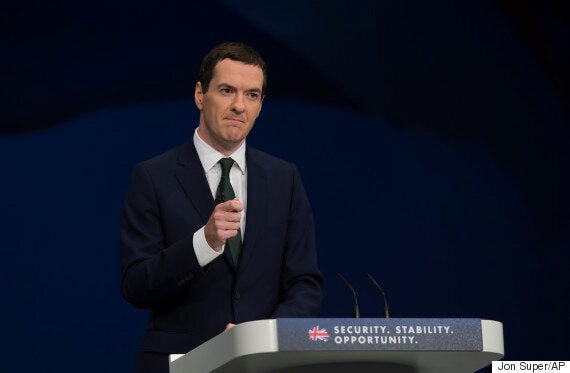 Allen warned cutting tax credits now before wages had risen would plunge the vulnerable into debt and poverty.
"For many, every day living is hand-to-mouth. Madam deputy Speaker, I suspect you and I could weather such a transition, period we could pull our belts in, but many of the families affected by these proposed changes do not have this luxury. choosing whether to eat or heat is not a luxury. And that is the reality I am talking about," she said.
"I know true Conservatives have compassion running though their veins," she said. "Every Conservative MP who knows who we really are has a duty to remind those who have forgotten, we are the party of the working person, the person indeed who leaves for work while it's still dark, who strives to provide for themselves their family with pride."
And Allen directly criticised Osborne for his aim of running a Budget surplus. "I worry that our single-minded determination to reach a budget surplus is betraying who we are."
She told MPs it was not too late to avoid "getting things wrong" and the "timing wrong over changes to tax credits".
"The prime minister has asked us that everything we do must pass the family test, cutting tax credits before wages rise does not achieve that," she said. "The pace of these reforms is s too hard and too fast. Too many people will be adversely affected. Something must give."
The new MP added: "To pull ourselves out of debt we should not forcing those working families into it."
Labour and the Lib Dems are set to unite next week with other peers in the House of Lords in an attempt to block the cuts by voting for a so-called 'fatal motion' on the changes.
The independent Institute for Fiscal Studies (IFS) has concluded millions of working families will be left £1,000 a year worse off as a result of Osborne's cuts to tax credits.
Paul Johnson, the think-tank's director, said today: "Actually these changes, they're certainly hitting people further down the income distribution than the changes that were made under the last parliament but the chancellor made quite a big choice in the Budget, he's decided actually to hit people in work rather harder than people out of work."
Related