Conforming to [some would say] a cynical belief the run-up to Christmas comes earlier every year, speculation of a "white one" is already rife.
Though it's still more than two months away, bookmakers are slashing the odds that snow will fall on the big day, amid reports that temperatures could plummet as low as -21C.
Some tabloids have alluded to an apocryphal-sounding "36 days of snow" across the winter period, blaming the big freeze on the coldest Atlantic temperatures since records began.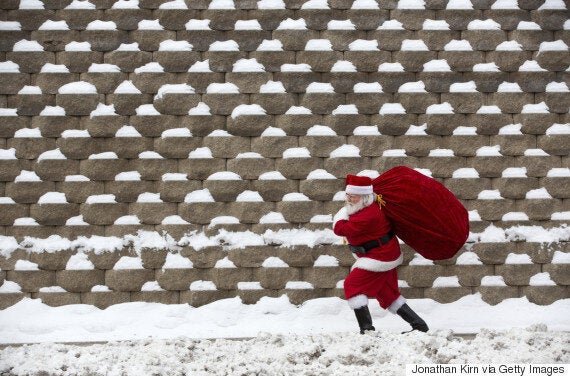 The last White Christmas in Britain was in 2010 (file picture)
Meanwhile Coral have cut their odds from 3/1 to even money.
A spokesman told The Telegraph: "Punters are convinced we are set for a White Christmas this year as there has been an early gamble on snow falling on Christmas Day where the odds have tumbled following forecasts for a frosty winter."
"Northern England faces colder-than-normal periods, some of which could affect southern England and Scotland is forecast a colder than normal winter.
"Given recent past winters' minimum temperatures of -8C to -21C, lows of that level are possible this winter."
However, a Met Office spokesman tells Huffington Post UK that while it's possible to forecast weather trends of up to 30 days in advance, the science beyond that "just isn't accurate."
She confirmed: "The technology doesn't exist to predict a forecast accurately that far away."
The last white Christmas was in 2010, and there was also snow covering the ground in the previous year.
Popular in the Community