Accused serial killer Stephen Port reportedly appeared in an episode of BBC's Masterchef, serving pasta alongside former JLS singer JB Gill.
Port, who is accused of drugging and murdering four young men he met on gay websites, helped serve 100 bus drivers last June with Gill and former EastEnder Emma Burton at the West Ham Bus Garage in east London, The Sun reported.
Port was said to have worked at the garage for 13 years.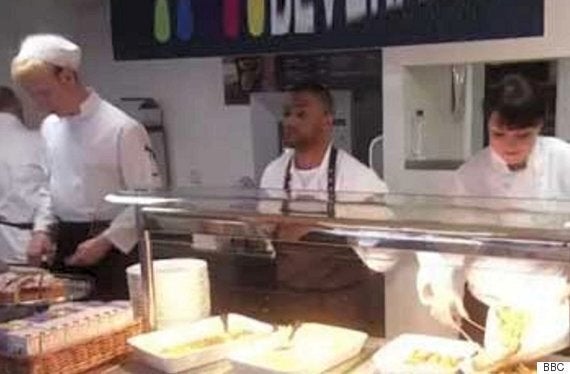 Stephen Port was seen serving pasta alongside JLS singer JB Gill and soap star Emma Burton
A spokesperson for Stagecoach London and West Ham Bus Garage told Mirror Online that Port was employed by an outside catering company, and was not a stagecoach employee.
Port, 40, is accused of poisoning his victims, who were all in their 20s, in a spate of attacks over a 14 month period and later dumping them around a churchyard in east London.
The Barking resident has appeared in court charged with four counts of murder and four counts of administering a poison with intent to endanger life or inflict grievous bodily harm.
It is alleged Port invited the men back to his house where they were given large amounts of party drug GHB which they overdosed on.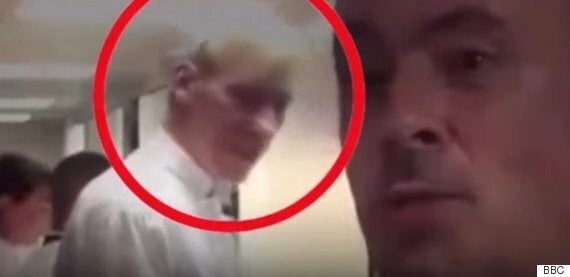 Port turns and faces the camera on the Masterchef episode last June
The bodies of two of the men were found by a dog walker less than a month apart by St Margaret's Church, in Barking, while another was found near the ruins of Barking Abbey.
Port, who is blonde with a receding hairline, appeared in the dock at Barkingside Magistrates accompanied by three uniformed officers on Tuesday. He did not enter a plea and was remanded in custody. He was due to appear in the Old Bailey on Wednesday.
Port allegedly killed Anthony Walgate, 23, a fashion and design student at Middlesex University who was originally from Hull but living in Barnet. Walgate was pronounced dead on Cooke Street on June 19 last year. Port, 40, is accused of murdering four young men he met on gay websites
He is also accused of murdering Gabriel Kovari, 22, originally from Slovakia but living in Lewisham. Kovari's body was found by a dog walker near the churchyard of St Margaret's Church on August 28 last year.
Just under a month later, on September 20, the same dog walker discovered the body of Daniel Whitworth, 21, from Gravesend, Kent, near the same churchyard.
Port is also accused of killing Jack Taylor, 25, a forklift truck driver from Dagenham, whose body was found near the Abbey ruins on September 14.
The deaths were not initially linked, but after further investigation they were referred to the Metropolitan Police homicide and major crime command on October 14.
Popular in the Community