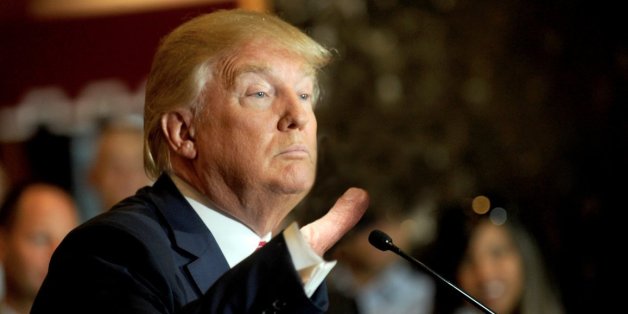 Getty
Donald Trump has a reputation for being pretty thick-skinned - a useful trait when much of the world is mocking you.
But it transpires he may have one weakness, namely his pride over the length of his fingers.
An intriguing article in Vanity Fair by editor Graydon Carter regales the reader with the following anecdote from when the author reported on Trump in the 80s...
Just to drive him a little bit crazy, I took to referring to him as a "short-fingered vulgarian" in the pages of Spy magazine. That was more than a quarter of a century ago. To this day, I receive the occasional envelope from Trump. There is always a photo of him—generally a tear sheet from a magazine. On all of them he has circled his hand in gold Sharpie in a valiant effort to highlight the length of his fingers. I almost feel sorry for the poor fellow because, to me, the fingers still look abnormally stubby. The most recent offering arrived earlier this year, before his decision to go after the Republican presidential nomination. Like the other packages, this one included a circled hand and the words, also written in gold Sharpie: "See, not so short!" I sent the picture back by return mail with a note attached, saying, "Actually, quite short." Which I can only assume gave him fits.
Brilliant. How to get under Donald Trump's skin? Call him a short fingered vulgarian. https://t.co/yMg9KCVNax pic.twitter.com/usXUSArG6J

— Nadin Hadi (@Nadin_Hadi) October 21, 2015
Now, we can neither confirm or deny the authenticity of this tale (we really hope it's true though) but if some of Trump's past tweets are anything to go by there is definitely some bad blood...
If Graydon Carter's very dumb bosses would fire him for his terrible circulation numbers at failing Vanity Fair-his bad food restaurants die

— Donald J. Trump (@realDonaldTrump) December 13, 2013
Does @VanityFair realize that the purpose of a magazine is to sell issues? Circulation at record low. Spy Mag also failed under Graydon.

— Donald J. Trump (@realDonaldTrump) May 2, 2014
Just in case it is true we thought we'd get in the spirit...