A Hungarian TV journalist who was filmed tripping up a refugee as he carried his child in his arms has reportedly announced that she intends to sue him.
Petra Laszlo, who was also recorded kicking a fleeing child in a separate incident as refugees ran from police in Hungary in September, was promptly sacked from the TV channel N1TV for her "unacceptable" behaviour after the footage went viral.
Laszlo, who later gave an interview insisting she was "scared" and "not a heartless, racist children kicking camerawoman," has since claimed she will sue Osama Abdul Mohsen.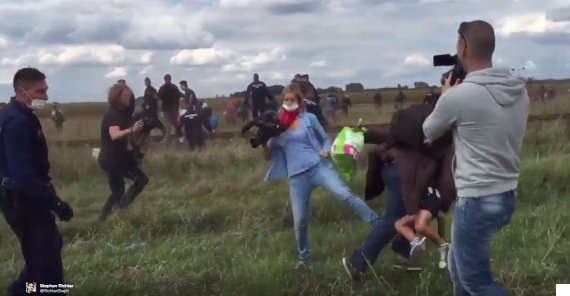 Petra László was filmed tripping Osama Abdul Mohsen who was running with his child in his arms
The 52-year-old Syrian refugee was carrying his small son when Laszlo was filmed tripping him, causing him to fall heavily on him.
In an interview with Russian newspaper Izvestia, Laszlo says she will sue him and Facebook for failing to protect her from ire over the incident on social media.
In comments translated by Mashable, Laszlo said of Mohsen: "He changed his testimony, because he initially blamed the police.
Lage in #Roeszke #Hungary weiter schlimm - Polizei überfordert - Flüchtlinge durchbrechen Polizeikette - Verletzte! pic.twitter.com/GlMGqGwABb

— Stephan Richter (@RichterSteph) September 8, 2015
"My husband wants to prove my innocence. For him, it is now a matter of honour."
Of Facebook, she alleges the company failed to remove negative and threatening messages directed towards her and banned groups set up to support her actions.
Laszlo is also facing a criminal investigation from Hungarian prosecutors after two opposition parties said they would initiate charges of "violence against a member of the community."
She added she hopes to relocate her family from Hungary to Russia after the trials.