A Hungarian TV journalist has been sacked by her employer after video appeared to depict her tripping up refugees, including children, at the country's border.
The woman, later named as Petra Laszlo, can be seen tripping a man sprinting with a child in his arms, and kicking another running child in two separate incidents, AFP reported.
Refugees had been running from a police line during disturbances at Roszke, southern Hungary.
The chaotic scenes were captured by dozens of photo journalists, including the woman who reportedly worked for the Hungarian TV channel N1TV.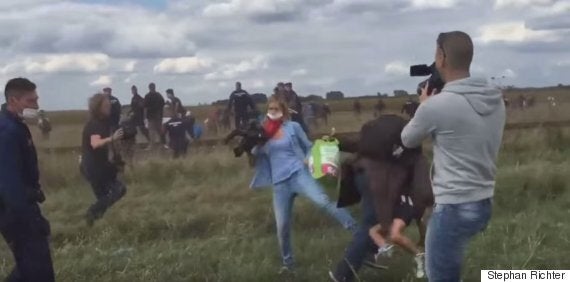 The woman was captured on video apparently tripping up a refugee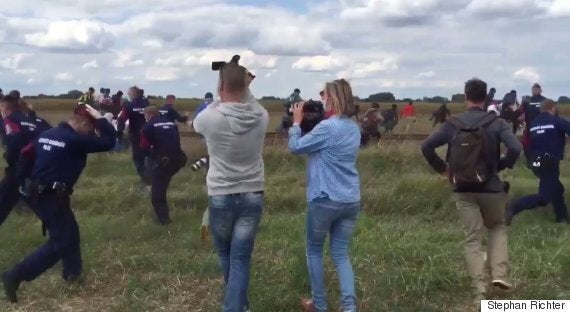 The woman, dressed in blue, worked for Hungarian TV channel N1TV
"An N1TV colleague today behaved in an unacceptable way at the Roszke collection point, the camerawoman's employment contract has been terminated with immediate effect as of today, we consider the matter closed " said a statement from N1TV's on the channel's Facebook page.
Roszke is close to the Serbian border where thousands have crossed into Europe each day.
Additional footage appears to show the same woman attempting to trip other refugees.
It comes as Hungary's handling of the migration crisis is placed under greater scrutiny.
His rhetoric has provoked colleagues on the European Council to criticise his attempts to stoke tensions between those seeking refuge and residents in Europe.
Orbán is an electoral force in the country and holds close to a two-thirds majority, having begun his 8-year term as prime minister in 2010.
Related