Update: Eye Casions have contacted us with comment, which we have added to the feature.
An eye care provider is warning Brits about the potential dangers of wearing costume contact lenses for Halloween after a woman suffered a severe allergic reaction last year.
Jess Wilby, a copywriter and blogger from Manchester, bought a pair of emerald green contact lenses for less than £20 when she dressed as Medusa for a night out with friends.
Despite putting the contact lenses in just before leaving her house at 10pm, the 23-year-old alleges she was in excruciating pain by 1pm as it began to irritate her eyes.
The next day her eyes became even more painful, swollen and red, causing her to take three days off work.
Optical Express have said Wilby's story is not unusual - they have treated a growing number of patients for injuries and infections caused by fancy dress contact lenses in recent years. They are now warning consumers to avoid Halloween lenses.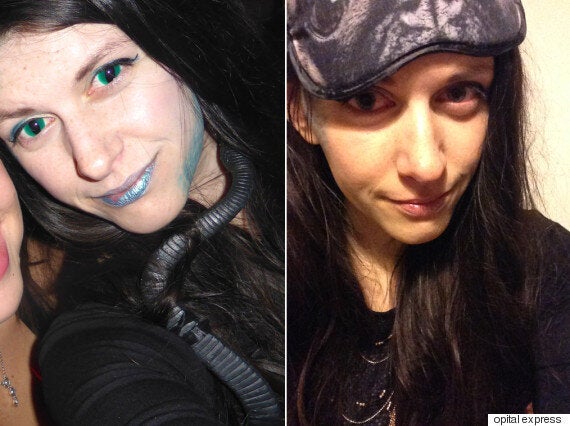 Jess Wilby wearing the contact lenses (left) and with swollen eyes after suffering an allergic reaction (right)
Wilby needed to make an emergency trip to her local GP in order to receive medical advice and treatment when she suffered a reaction to the lenses.
She's now warning others about the risk of buying cheap products.
"My advice to anyone planning their Halloween costume and contemplating purchasing lenses like the ones I used would be to stay very cautious. I followed all the instructions given on the packaging and still managed to get seriously hurt," she said.
"They simply aren't safe in my opinion and it really isn't worth the risk for one night out. If you're really desperate to complete your outfit, seek professional products.
"There are cheap alternatives, but how much do you value your sight and general health? It might sound dramatic but that's the reality of it.
"I only had mine in for three hours and needed to take three days off work, imagine if I'd carried on and not realised the danger. Things could have been a lot worse! I definitely won't be using them again."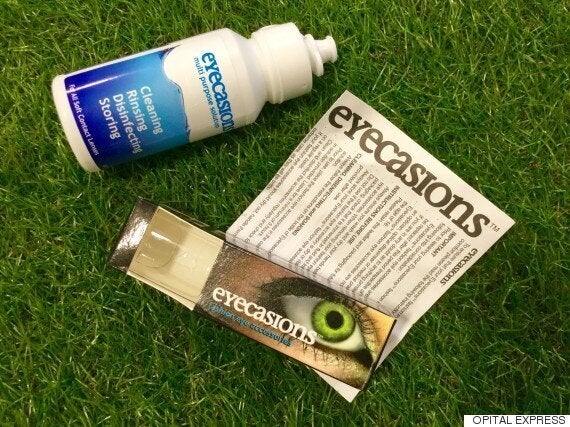 The contact lenses Jess Wilby purchased last year
Dr Steve Schallhorn, chief medical director of Optical Express, has also warned members of the public to avoid Halloween lenses.
"It is very common to see such outlets as party shops, market stalls, convenience stores and even beauty salons selling these extremely dangerous products to customers of all ages in the lead-up to Halloween," he said.
"As a result of this prevalence, customers therefore believe them to be perfectly safe, when they are, in reality, anything but.
"While Jessica was lucky to have realised the irritation her lenses were causing early on in her evening, here at Optical Express we have had to treat patients who have suffered corneal ulcers, corneal abrasion, vision impairment and even blindness as a result of similar products."
He went on to say that if you really want to add spooky eye-wear to your Halloween costume, you should visit an eye care professional who will be able to give you a prescription for the correct type of lenses that you need.
"Be sure to follow instructions and the cleaning processes thoroughly," he added.
Eye Casions' managing director Ghulam Rasul comments as follows: "Eye Casions takes product safety extremely seriously. We have over 25 years' experience of developing and manufacturing cosmetic contact lenses. All our products are manufactured to ISO quality standards to guarantee customers the highest levels of comfort and safety.
"We are very sorry to hear of Ms Wilby's allergic reaction in 2014 to one of our products. We find such allergic reactions to be extremely rare. Unfortunately, Ms Wilby has never directly reported the problem to us or our supplier. We have therefore been unable to fully investigate what triggered her reaction.
"Recent tests carried out by one of the world's leading testing labs have confirmed that our products are perfectly safe. They also confirmed that medical prescriptions are not currently required for non-corrective lenses.
"We encourage customers with any issue whatsoever with our lenses to contact us at info@eyecasions.com. We would also be happy to advise customers on the safe and proper use of our products."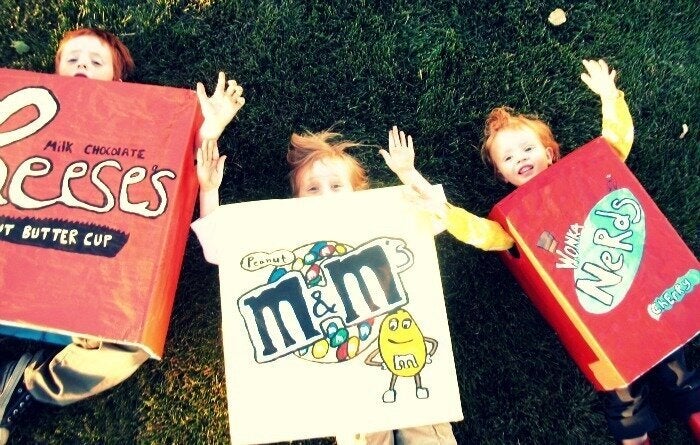 25 Halloween Costumes Made From Cardboard