Story contains some graphic images
The martyrdom of the Prophet Muhammad's grandson is being commemorated by some devout Shiite Muslims with rituals that include mass flagellation ceremonies, acts of giving, blood donations and candlelit vigils.
Ashura is marked on the tenth day of the Islamic month of Muharram (the first month of the lunar calendar, which can vary depending on the sighting of the moon).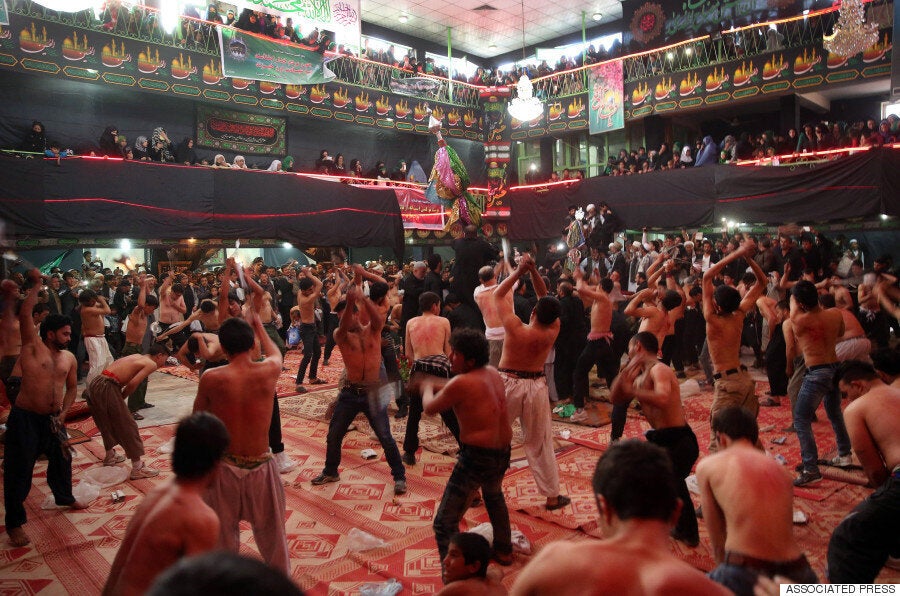 Shiite Muslim men beat themselves with knives attached to chains during a procession to mark Ashoura at Jafaria worshipping place in Kabul, Afghanistan, on Wednesday
It marks the death of Imam Hussein, the grandson of the Holy prophet in 680 AD in Karbala, near Baghdad in Iraq. He was killed fighting the armies of Ummayid Caliph Yazid, alongside 72 men of his own men.
His body was then mutilated, leading to his martyrdom.
Events Commemorating Ashura Across The Globe Include:

#40ActsofKindness: October 24 at 12:00 am till December 3 at 11:59 pm, Karachi, Pakistan
Blood donations: October 24 at 9:00 am till 1:00 pm Iranian Hospital-Dubai
Downtown Procession: October 24 at 10:00 am, Richard J. Daley Center, Chicago
Water Distribution Drive: October 24 at 1:00 pm till 5:00 pm, Jhelum, Pakistan
Weekly Food Donation Drive: October 24 at 6:00 pm till 8:00 pm, Charing Cross, London
Annual Interfaith Candle light Vigil for Peace & Humanity: October 25 at 5:45 pm till 7:45 pm, Irving, Texas
Who is Hussain: October 26 at 4:00 pm till 8:00 pm, Detroit
Blood donations: October 31 at 10:00 am till 4:00 pm, Belgrave Road, London
Weekly Food Donation Drive: October 31 at 6:00 pm till 8:00 pm, Charing Cross, London
Who Is Hussain: November 2 at 5:00 pm till 9:00 pm, Southfield, Michigan
As well as a minority who choose to mark the occasion with self-flagellation - to emulate the suffering of Hussein - some take part in processions, which involve walking on coals and carrying a 'Tazia' - a replica of his coffin.
Many travel to Karbala in Iraq, where Hussein was killed, as a pilgrimage on Ashura. Some observers wear black and march through the streets chanting and hitting themselves in the chest. Some use whips and chains - or cut themselves on the forehead - to ritually punish their bodies.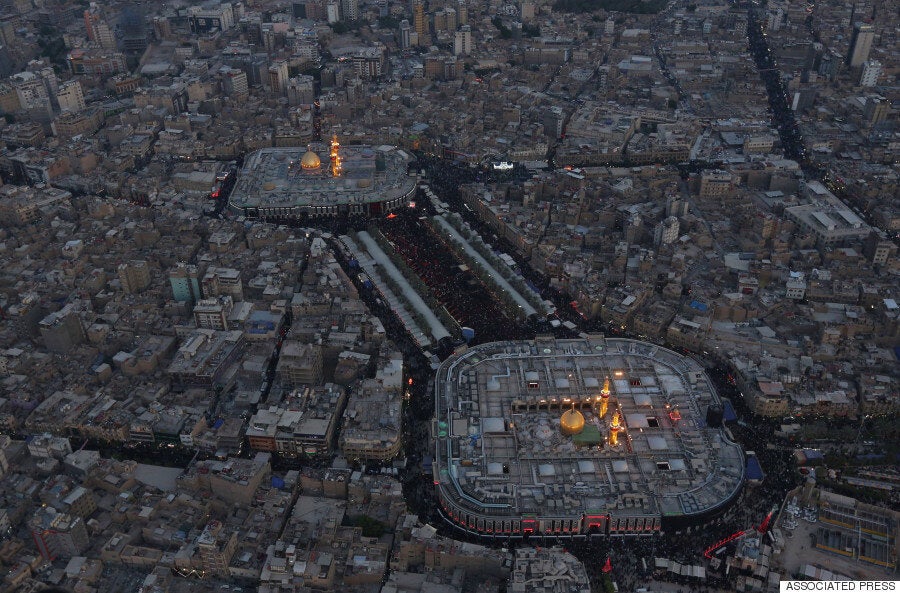 This aerial photo shows the Shiite holy shrine of Imam Hussein, bottom, and the holy shrine of Imam Abbas, top, as pilgrims gather during preparations for the Muslim holiday of Ashoura in the city of Karbala, 50 miles (80 kilometers) south of Baghdad, Iraq, Friday, Oct. 23, 2015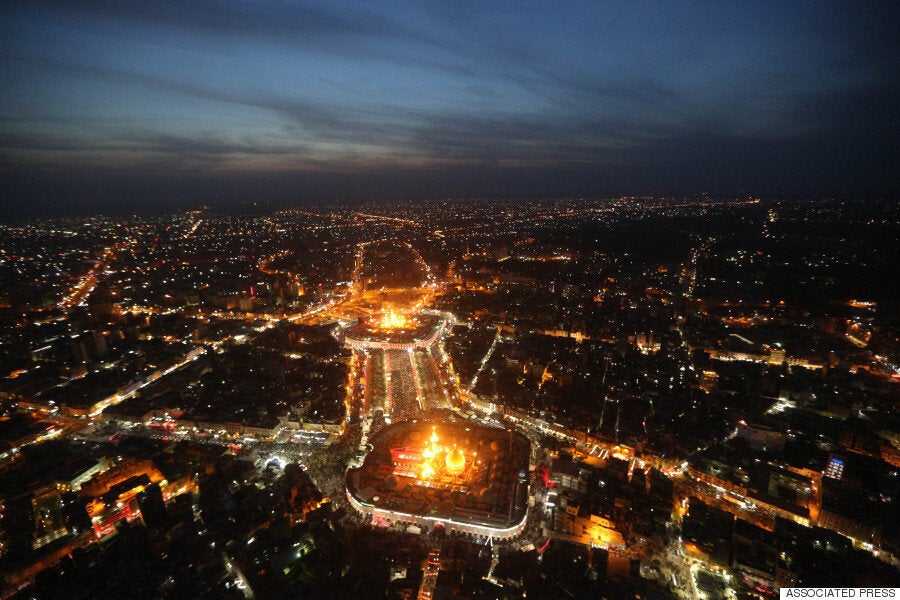 Many Shiite leaders discourage the bloodletting, claiming it creates a negative image and encourage people to donate blood instead.
Sunni Muslims consider Ashura a fast day because Muhammad fasted then and Moses fasted in appreciation of the successful Exodus for Egypt.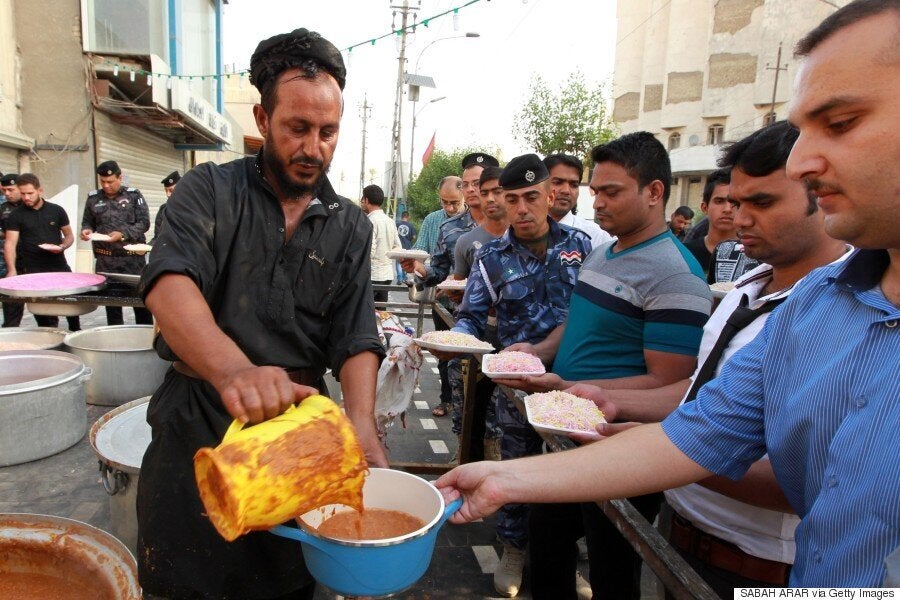 Shiite Muslims distribute free food on the tenth day of the mourning period of Muharram, which marks the day of Ashura, in the Karrada neighbourhood of Baghdad on October 24, 2015 as Shiites around the world remember the slaying of the Prophet Mohammed's grandson the Imam Hussein in the seventh century, by armies of the Sunni caliph Yazid in 680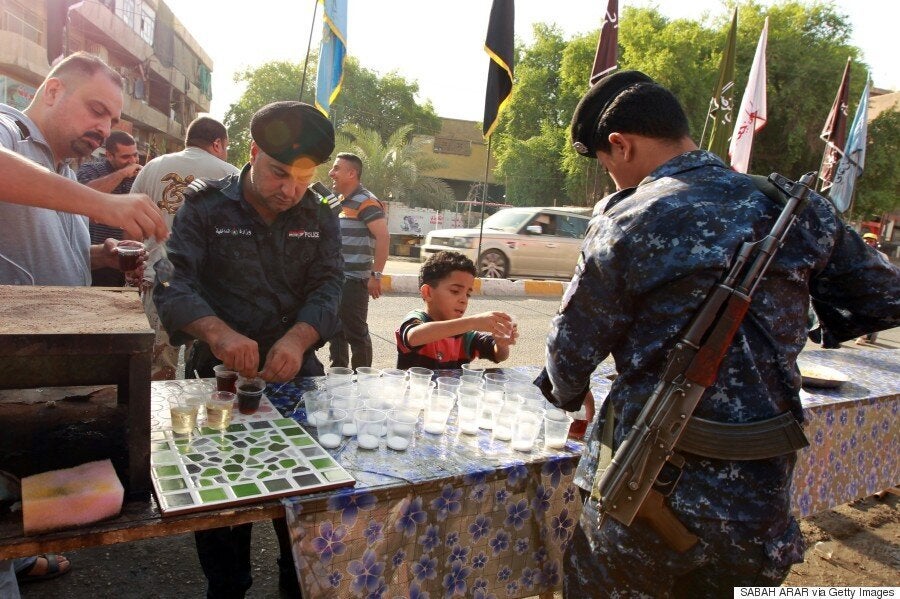 Iraqi police stop at a stall serving free tea on the tenth day of the mourning period of Muharram, which marks the day of Ashura, in the Karrada neighbourhood of Baghdad on October 24, 2015
Shiites, who constitute Islam's second-largest denomination (between 10-15 per cent of the Muslim population) consider Hussein to be one of the true heirs of Muhammad's legacy.
Flagellation is also carried out by some Catholics, although it is no longer a widespread practice.
The late Pope John Paul II would whip himself, according to a nun who used to care for him.
And in the Philippines, devotees wearing crowns of twigs are nailed to crosses in a yearly rite, despite discouragement by church leaders.
Related