The Conservative MP appointed chair of the Psychoactive Substances Bill Committee was once duped by an episode of 'Brass Eye' that convinced him of the dangers of a mythical drug.
David Amess appeared on the show holding an unfeasibly large yellow pill called 'Cake', angrily extolling the risks it posed to the country's youth.
In the programme (2:27 in the clip above) he said: "Look at that! One hundred grand in the pocket of the filth that sells it.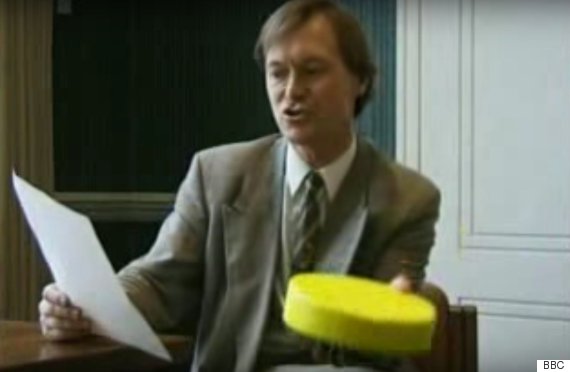 'Cake'
"A big yellow death bullet in the head of some poor user - or custard gannet as the dealers call them.
"I'm off to do what I can and if you don't mind I'll leave this here, I don't want to look at it for another moment."
Amess then went on to promise to raise the completely made-up issue in Parliament - and he did.
Other celebrities duped by the episode - the brainchild of Chris Morris - include Noel Edmonds and Rolf Harris.
The forthcoming Psychoactive Substances Bill which is going through Parliament, will introduce a blanket ban on the production, distribution, sale and supply of so-called designer drugs - officially known as new psychoactive substances (NPSs) - after they were linked to scores of deaths.
Sellers will face up to seven years in prison.
But disagreement remains over what the bill will cover as some MPs have argued poppers should not be made illegal.
Amess started his parliamentary career by unsuccessfully the contesting the safe Labour Party seat of Newham North West at the 1979 General Election.
He first became an MP in 1983 winning the seat in Basildon, holding it ever since