[WARNING: Some readers may find the images and video in this story distressing]
Two fisherman have saved a Syrian baby found floating unconscious in the Aegean Sea, in a dramatic video shown on Turkish television.
The fishermen came across the boy floundering in the sea with members of his family, after the boat of refugees they were on sank, according to The Guardian.
The men shout in Turkish as they spot the people in the waves, with one saying, "Faster, faster, people fell into the water, hurry".
One voice then shouts: "Oh my god, there's a baby too".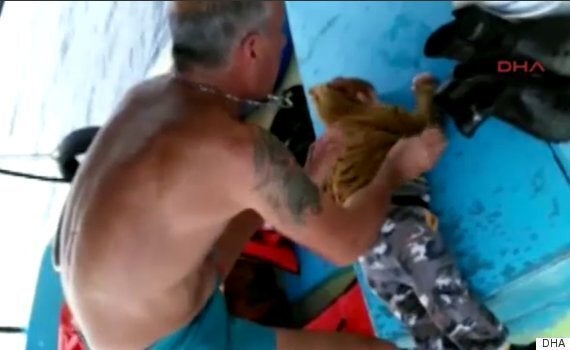 The men desperately administer first aid
The tiny boy can be seen wearing a life jacket but floating with his face under the water.
The men scramble to pull him onto their boat, in footage shown on the Turkish TV news service DHA.
The captain of the ship told a Turkish newspaper he initially thought the child was dead.
When he is lifted up, the baby appears to be lifeless, but one fisherman shouts, "Brother, he's alive! He's alive!" after the boy seems to made a sound.
One man can then be seen pulling him out of his lifejacket and desperately trying to resuscitate him, as the other calls out instructions.
The boat's captain told the Hurriyet newspaper: "He was all pale. We suspected hypothermia as he was cold and his hands and feet were all white. He was also frothing at the mouth.
"We covered the baby with a blanket, tried to rescue him. After our call, a tow boat from the harbour arrived to help us."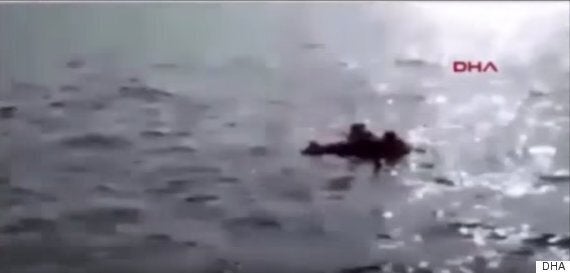 The fishermen spot the people in the water
The boy, who has been named as Muhammad Hasan, was then taken to Kusadasi, a beach town on Turkey's western Aegean coast.
He was reportedly taken to the city of Izmir, where he is said to be healthy. He was shown surrounded by with his smiling family in video shown on the DHA channel.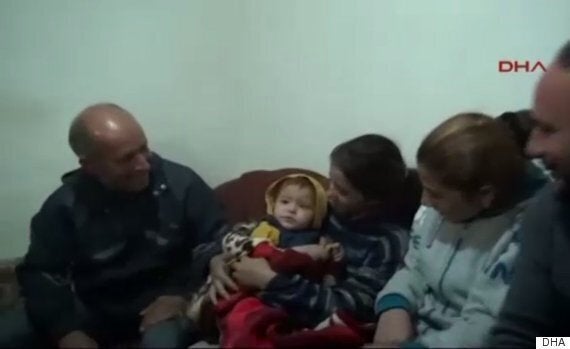 Muhammad was shown with his family on Turkish TV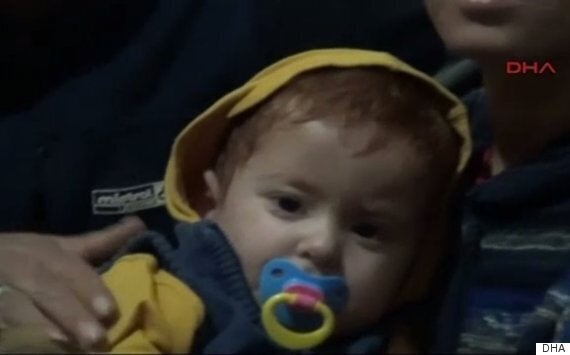 The boat's crew said that they pulled around 15 people from the water after the boat sank on 21 October.
The captain said: "They were trying to explain with hand signals that there were 30 people in the water. We think the others are deep at the bottom of the sea."
Related