At least five people have died after a whale-watching boat carrying 27 passengers sank in Canadian waters on Sunday, as one person still remains missing.
The tourist boat sank off Vancouver Island late on Sunday afternoon. Rescue teams continued looking into the night, but their search has since been called off with one person still unaccounted for.
British officials are now "urgently" checking with Canadian authorities to find out whether any Britons were involved in the tragedy.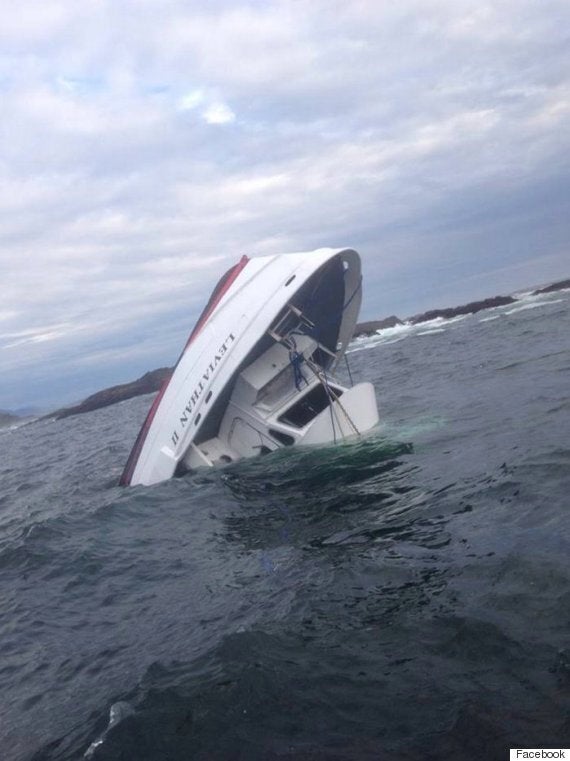 At least five people have died after the whale watching boat capsized
The vessel made a mayday call late Sunday afternoon on what was a calm, clear and sunny day off the tourist community of Tofino, a popular destination for whale watchers on Canada's West Coast, the Associated Press reports.
The Royal Canadian Mounted Police will take over the search for the person who remains missing.
Lt.-Cmdr Desmond James, a spokesman for the rescue agency staffed by Canadian military and Coast Guard personnel, said: "As of right now the case has been turned over to the RCMP and it's a missing person file.
"Fortunately, we did manage to rescue 21 people."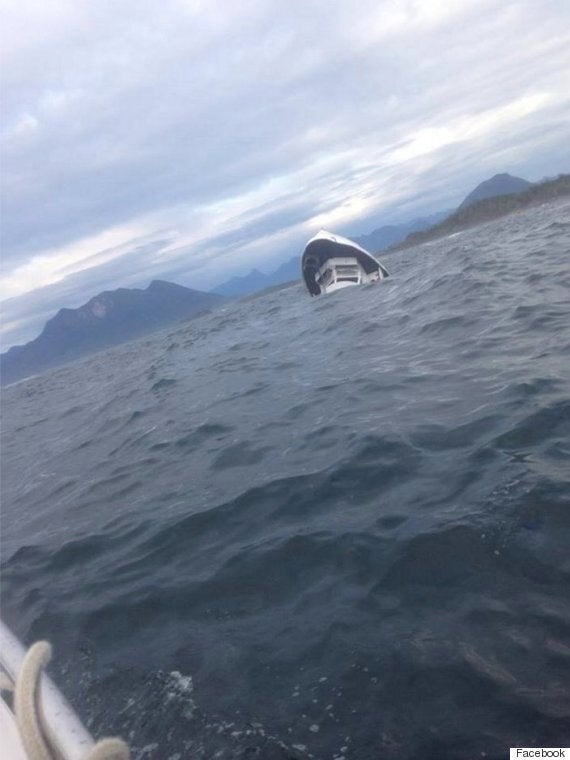 One person is still missing
A spokesman for the Foreign Office said: "Following the incident in Tofino on October 25, we are urgently seeking information from the local authorities and stand ready to provide consular support to any British nationals involved."
The 20-metre boat was partially submerged when rescuers found it.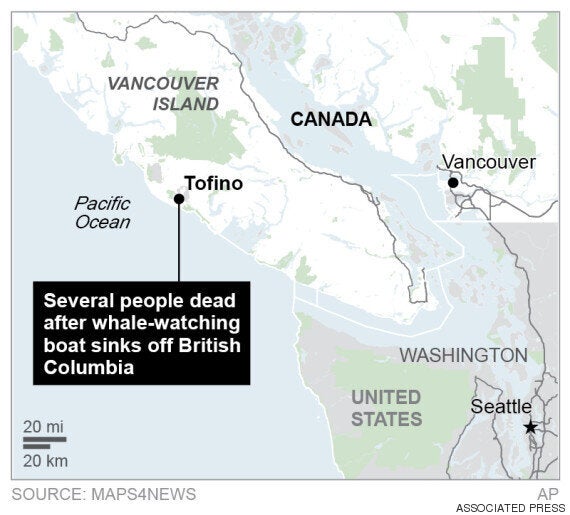 The boat sank off Vancouver Island
Tofino's mayor described the town's sadness following the accident, but praised residents for their quick aid in the rescue effort.
She said: "Everybody's heart is just breaking for what's going on here and wanting to be as helpful as possible," AP reports.
Ms Osborne thanked everyone on twitter for their support during this difficult time.
Coast Guard vessels and search and rescue aircraft searched into the night for survivors.
Boats from the nearby Ahoushat First Nation arrived first on the scene, said aboriginal Councilor Tom Campbell. He was on the waterfront and watched as rescuers brought several survivors ashore.
"Their looks tell the whole story," he said.
"You can't describe looks on people that are lost. They look totally lost — shocked and lost."
The ship that went down was reportedly operated by Jamie's Whaling Station.
John Forde, who runs The Whale Centre, said: "Over the course of a season and years we take out thousands and thousands of people on these trips in conditions similar today.
"I have no idea what the issue was or what actually happened."
Forde said Jamie's Whaling Station was one of the first of its kind off Vancouver Island and had been around for many years.
This is not the first fatality on the whale watching company's record. In 1998 one of its vessels capsized during an excursion, sending all four people on board into the water. The operator and a passenger died.
Canada's Transportation Safety Board is investigating the boat's sinking.
Popular in the Community