Thousands will die in rivers and fields of eastern Europe as temperatures drop, Jean-Claude Juncker said, unless countries could work together to find a solution.
Jean-Claude Juncker warned that "every day counts" as the cold weather sets in, and others warned the continent is "falling apart" trying to handle the hundreds of thousands traveling to escape war and abuses in countries like Syria and Eritrea.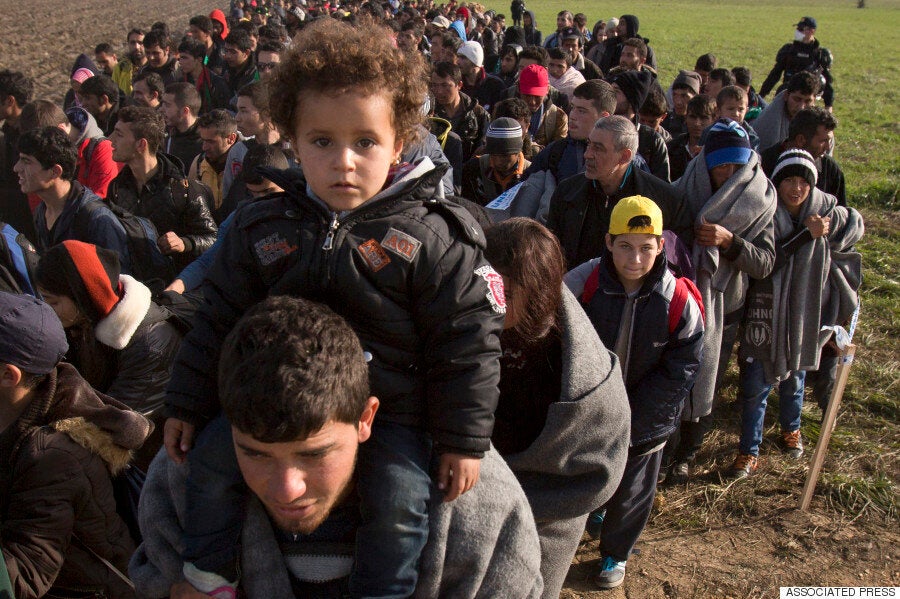 A line of migrants moves through fields in Solvenia after crossing from Croatia on Sunday
Nearly 250,000 people have passed through the Balkans since mid-September, the Associated Press reported.
Leaders met at a "foul-tempered" emergency summit in Brussels, The Daily Telegraph reported, to try to address the crisis which is thought to be the biggest movement of people since the Second World War.
"Every day counts," Juncker said. "Otherwise we will soon see families in cold rivers in the Balkans perish miserably."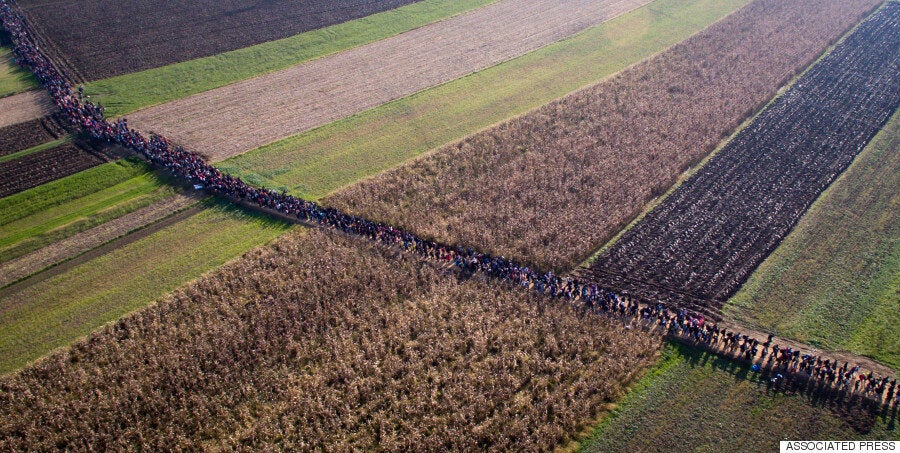 "The immediate imperative is to provide shelter," Juncker said after chairing the mini-summit of 11 regional leaders in Brussels. "It cannot be that in the Europe of 2015 people are left to fend for themselves, sleeping in fields."
The leaders of eastern European countries have warned that the region could be torn apart as nations set up tough border controls to try to stem the flow of people.
After a tense summit in Brussels, they agreed early Monday to try to slow the movement of tens of thousands who have overwhelmed border guards and reception centres, and heightened tension among nations along the route to countries like Germany.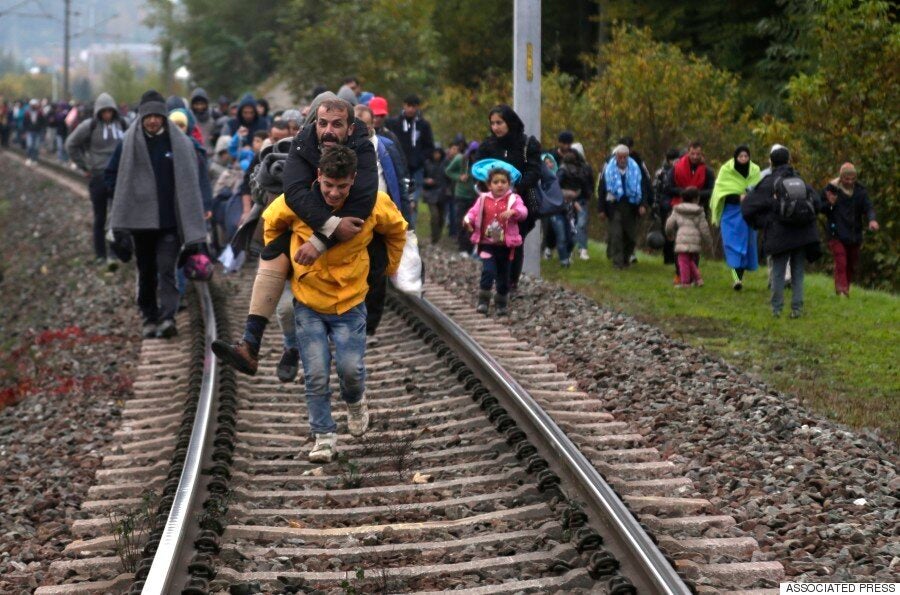 Migrants walk on train tracks in Austria after leaving a camp on the border with Slovenia on Friday
In a statement, the leaders committed to bolster the borders of Greece as it struggles to cope with the of people from Syria and beyond that are crossing over through Turkey.
The leaders decided that capacities at reception centres should be boosted in Greece, as well as along the Balkans migration route to shelter 100,000 more people as winter looms.
They also agreed to expand border operations and make full use of biometric data like fingerprints as they register and screen migrants, before deciding whether to grant them asylum or send them home.
Croatia said 11,500 people entered its territory on Saturday, the highest tally in a single day since Hungary put up a fence and refugees started moving sideways into Croatia a month ago.
Many are headed northwest to Austria, Germany and Scandinavia where they hope to find a home.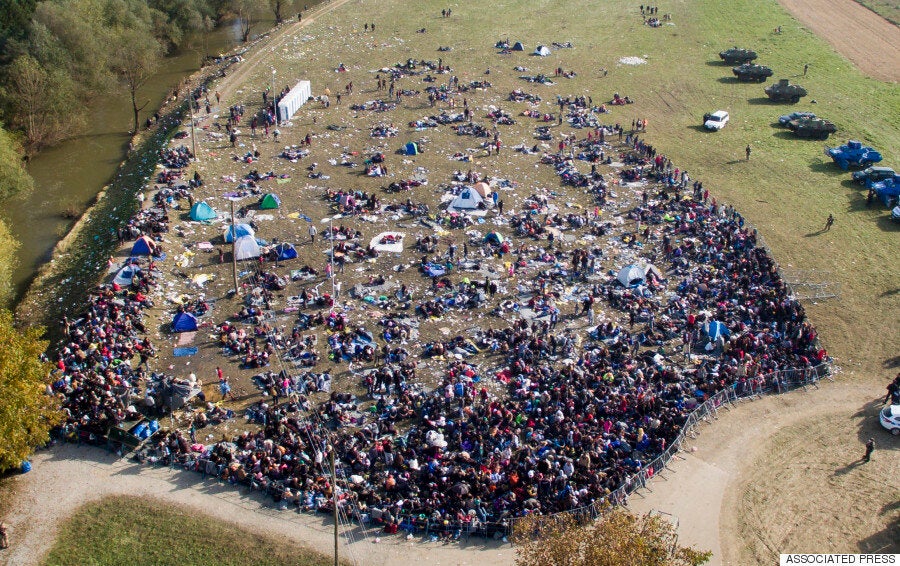 Hundreds of migrants are blocked by Slovenian police after crossing from Croatia on Sunday
"This is one of the greatest litmus tests that Europe has ever faced," German Chancellor Angela Merkel told reporters after the summit. "Europe has to demonstrate that it is a continent of values and of solidarity."
"We will need to take further steps in order to get through this," she said.
Slovenian Prime Minister Miro Cerar said his nation was being overwhelmed by the refugees - with 60,000 arriving in the last 10 days - and was not receiving enough help from its EU partners.
He put the challenge in simple terms: if no fresh approach is forthcoming "in the next few days and weeks, I do believe that the European Union and Europe as a whole will start to fall apart."
The leaders agreed to rapidly dispatch 400 border guards to Slovenia as a short-term measure.
As they arrived at the hastily-organised meeting, some leaders traded blame for the influx with their neighbors, with Greece targeted for the mismanagement of its porous island border.
"We should go down south and defend the borders of Greece if they are not able to do that," said Hungarian Prime Minister Viktor Orban, who claimed he was only attending the meeting as an "observer" because Hungary is no longer on the migrant route since it tightened borders.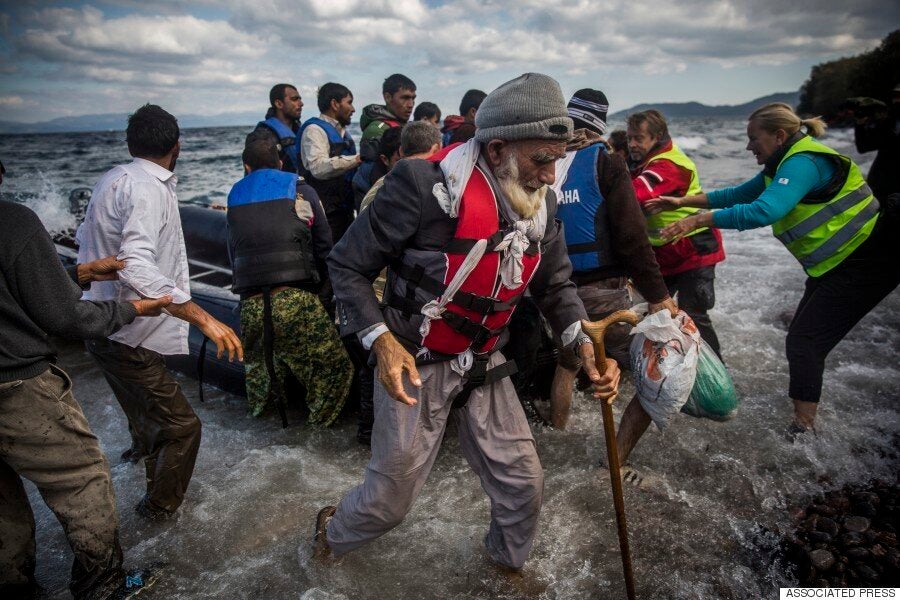 An Afghan man disembarks from a dinghy after arriving from a Turkish coast to the Greek island of Lesbos on Sunday
But the country that many say is another key source of the flow - Turkey - was not invited, and some leaders said that little could be done without its involvement.
"It has to be tackled in Turkey and Greece, and this is just a nice Sunday afternoon talk," Croatian Prime Minister Zoran Milanovic said, after complaining about having to leave an election campaign to take part in the mini-summit of nations in Europe's eastern "migrant corridor."
The refugee emergency has heightened tensions in the Balkans which have simmered since the wars in former Yugoslavia in the 1990s, and some of those strains surfaced in Brussels.
Slovenian's Cerar warned that he could be forced to act to ensure security if his EU partners, and notably Croatia, do not help ease the migrant strain on his country. He hoped the commitments taken by the leaders would make cooperation much better.
He said that more than 60,000 people had arrived in Slovenia over the last 10 days, many of them entering through Croatia; some driven there on Croatia-supplied buses.
They also committed to "discouraging" the movement of migrants toward their neighbours' borders without asking those countries first.
Related