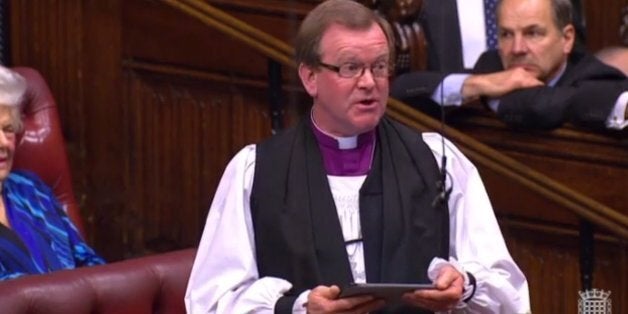 The Government's plans to axe tax credits have come under attack for being "morally indefensible" and forcing working parents to skip meals to feed their children as the House for Lords attempts to derail the controversial welfare crackdown.
As the Bishop of Portsmouth told peers that George Osborne's plan was a "carrot for some, a stick for others", Labour's Baroness Patricia Hollis detailed how families are "terrified", adding: "Those families believed us when we all said that work was the best route out of poverty."
Margaret Thatcher's former Chancellor, Lord Nigel Lawson, admitted he was "torn" over whether to support his party, warning of the "great harm" to the poorest the cuts will cause.
The House of Lords tonight votes on proposals to block the controversial proposals against Government claims the unelected chamber is over-reaching its authority by blocking a financial matter.
But critics say the cut to the top-up benefit for low-paid workers was not outlined before the election and that ministers are using a particular parliamentary device that permits them to put up a road-block.
Bishop Christopher Foster, who has tabled one of four motions against the Osborne plan, told a packed Lords that the proposal was "punishing".
His "motion of regret" - which allows peers to register their opposition without disrupting the government's plans - would be put forward if the three others failed, he said.
TAX CREDITS: THE IMPACT

Tax credits are welfare payments to families raising children and working people on low incomes.

More than three million families will lose an average of £1,300 a year from April

The cuts will deliver £4.4bn of the Chancellor's planned welfare cuts by reducing the earnings level at which tax credits start to be withdrawn from £6,420 to £3,850.

The Government says eight out of 10 would be "better off" overall from a package which also includes increases in the minimum wage for over-25s, rises in the income tax threshold and extended free childcare.
In striking remarks, the Bishop said: "I say to the Government these proposals are morally indefensible.
"It is clear to me - and very many others - these proposals blatantly threaten damage to the lives of millions of our fellow citizens.
"This must not be the way to achieve the Government's goals at a cost to those if we believe the rhetoric the Government intends to encourage and support. To many in my diocese and well beyond this seems punishing rather than encouragement."
On backing the Bishop's amendment, Lord Lawson said: "I am torn, I believe there are aspects of this measure which need to be reconsidered and indeed changed.
"The great harm, a great deal of the harm, is at the lowest end. That is what needs to be looked at again, that's what concerns me. I think its perfectly possible with tweaking it to take more from the upper end of the tax credit scale and less from the lower end of the tax credit scale
"It's not just listening that's required, it's change that is required. My present intention is to support the amendment in the name of the [Bishop]."
Earlier in the debate, Lady Stowell, speaking for the Government, said the Chancellor would "listen very carefully" to the Bishop's motion, but only if the three others were rejected.
Baroness Hollis, whose amendment would halt the cuts until the Government produced a scheme to compensate low-paid workers for three years, and is seen as the most dangerous, denied her move would "break convention by trespassing on Commons financial privilege".
On the impact of the cuts, she said: "We can be supportive of those three million families facing letters at Christmas.
"Those families believed us, they believed us when we all said that work was the best route out of poverty and work will always pay. They believed the Prime Minister when he promised that tax credits, and they were one package, would not be cut."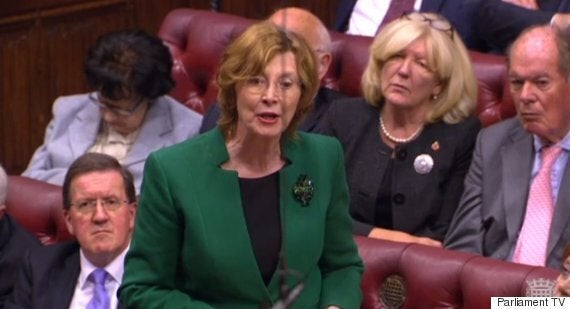 Baroness Hollis: "Those families believed us, they believed us when we all said that work was the best route out of poverty and work will always pay."
She detailed how Angela from Stevenage will be hit. She quoted to the peers: "I already work 40 hours a week on minimum wage doing two jobs around my children. I cannot believe this is actually going to happen. I am terrified. We are not scroungers. We work unbelievably hard just to keep going and once again we are being punished for trying to earn a living wage."
She also quoted Rachel from Milton Keynes: "It probably means that as parents we will skip a few extra meals to ensure our children eat."
Lady Meacher, a crossbencher, whose motion would delay the cuts until the Government spelled out how it would help low-paid workers, said she understands that some Conservative MPs are now "livid" because they believe they were kept in the dark over the impact.
Even allowing for the death of her former husband, Labour MP Michael Meacher, the Government has lost its majority because at least eight MPs are now opposed to the tax credit cuts, she says.
"It seems the Government does no longer have a majority for the planned cuts," she said.
She also revealed ministers threatened to "destroy" the House of Lords if she tried to block the tax credit cuts.
Related