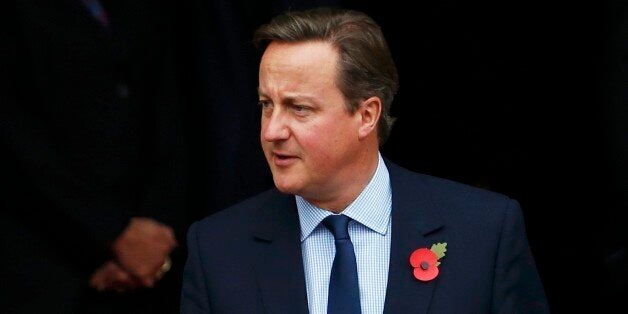 Graduate job applications to some of Britain's biggest firms will be anonymous in order to tackle "racial bias", David Cameron has announced
Companies including the NHS, HSBC, Deloitte, the BBC and the civil service have pledged to hide young people's names from their applications. In a separate move, UCAS will also look into making its applications "name blind" and identify candidates by codes - a procedure which could come into play in 2017.
The prime minister announced the full list of the organisations participating, which employ 1.8m people, in a Guardian article. Those applying for apprenticeships will also be included. In the article, Cameron urged UCAS to follow suit and adopt anonymous applications.
"For all the legislation we have passed, discrimination still persists. It's no longer signs on doors that say 'no blacks allowed'; it's quieter and more subtle discrimination," he wrote.
"It's the disappointment of not getting your first choice of university place; it's being passed over for promotion and not knowing why; it's organisations that recruit in their own image and aren't confident enough to do something different, like employing a disabled person or a young black man or woman. You won't change these attitudes simply through more laws, but in smarter, more innovative ways."
The change comes after Cameron highlighted the issue in his conference speech last month.
During his address in Manchester, he said: ""Do you know that in our country today, even if they have exactly the same qualifications, people with white-sounding names are nearly twice as likely to get callbacks for jobs than people with ethnic-sounding names?
"One young black girl had to change her name to Elizabeth before she got any calls to interviews. That, in 21st-century Britain, is disgraceful."
David Sproul, senior partner and chief executive of Deloitte, said: "We want to show that everyone can thrive, develop and succeed in our firm based on their talent, regardless of ethnicity, gender, sexual orientation, or any other dimension that can be used to differentiate people from one another.
"The introduction of name-blind recruitment processes and school and university-blind interviews will help prevent unconscious bias and ensure that job offers are made on the basis of potential - not ethnicity, gender or past personal circumstance."
UCAS chief executive Mary Curnock Cook said: "We'll be consulting with universities and colleges on name-blind applications, as well as a wider range of changes which could impact applications from BME students. This is a good time to consider such changes as part of the wider redevelopment of our application management service.
"One of the benefits of our unique national admissions service means that it is possible both to identify and address issues of under-representation. UCAS is deeply committed to increasing participation from disadvantaged groups."
Related