An Italian bike firm has issued a humble apology after posting a "sexist" image of a woman's lycra-clad bottom on Twitter.
Colnago marked the start of the weekend by posting the picture – featuring a woman clad in socks and lycra, leaning over a bicycle, pointing her bottom at the camera and sending a coquettish smile over her shoulder.
It was accompanied with the caption: "Ready for the weekend ride?"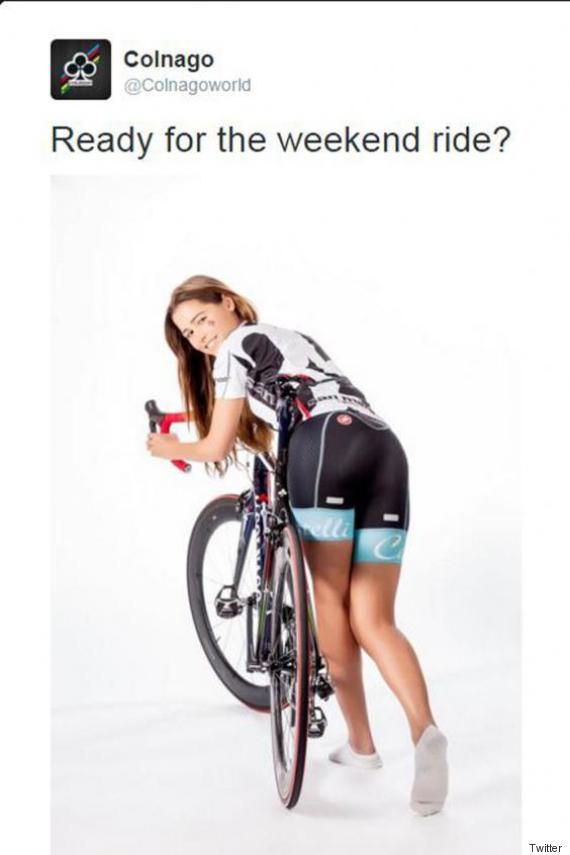 Colnago has since deleted the offending tweet
The tweet has since been deleted, but not before the denizens of Twitter rounded upon it with stinging criticism.
As well as alleging the tweet was laden with sexist innuendos, some also pointed out the bike in the image is considerably too large for a woman.
Some have even threatened to withdraw their business entirely from the firm.
Amazing bikes, pathetic #everydaysexism marketing; wtf. RT @Colnagoworld: Ready for the weekend ride? https://t.co/WjxCV9BS34

— sam (@steampie) October 26, 2015
Sigh. @Colnagoworld sponsor one of the premier women's cycling teams, yet still think sexist advertising is acceptable. Depressing.

— Gethin (@Gethin76) October 26, 2015
Just saw the staggeringly sexist @Colnagoworld post. I can't even. Just, stop. Stop being a-holes people.

— Alex Oates (@Velocentric) October 26, 2015
Cheapening a noble brand. You won't get that goodwill back anywhere near as quickly as you've lost it.

— Jon Sparks (@SparksJon) October 26, 2015
@Colnagoworld Seriously sexist. Not ok.

— Ben Schiendelman (@BenSchie) October 26, 2015
@Colnagoworld Thanks, I'll take my business elsewhere. These kinds of sexist and objectifying ads help me be an informed consumer.

— Christina Fleming (@tina85ln) October 25, 2015
@NellePierson @Colnagoworld Uncreative, sexist marketing? I'll take my dollars elsewhere. Btw where are her shoes smh

— kl (@flyingovertrout) October 25, 2015
And the prize for most blatantly sexist ad goes to bike co @colnagoworld... At least they apologised @everydaysexism pic.twitter.com/AU5LqHd8Ta

— Philippa Buckley (@philippabuckley) October 26, 2015
Colnago has issued a contrite apology on it's Facebook page.
It wrote: "Colnago deeply regrets the recent posting of an image and accompanying social media post that is offensive to women, and not at all appropriate.
"Colnago has long supported women's cycling and continues to provide such support, we do not condone sexism, on or off the bike, and sincerely apologise for posting the image.
"Our social media policies have been clarified internally to prevent such posts from happening in the future.
"We respect all members of the Colnago community and we appreciate the needed feedback many have provided to us on this matter."
Colnago deeply regrets the recent posting of an image and accompanying social media post that is offensive to women, and...

Posted by Colnago on Monday, October 26, 2015