NEW YORK -- The Fox News morning magazine 'Fox & Friends' addressed the issue of female leggings on Tuesday, asking a panel of three men, one dressed as an extra from 'The Deer Hunter,' to pass judgment on what is appropriate for women to wear.
To correctly assess "proper etiquette," a roster of young ladies was paraded in front of the giddy trio, before each gave their verdict. The segment was a response to a viral video posted on Monday in which a woman from Tennessee lambasted the wearing of leggings as "britches." Leggings "ain't pants," said the poster, sparking an online debate as to the correct use of the popular garb.
"Are you comfortable with the women in your life parading around in public in leggings?" drooled host Steve Doocy to a panel that included legal analyst Arthur Aidala and Andrew Sansone, the husband of a Fox News host. One the end sat Willie Robertson from 'Duck Dynasty,' a reality TV show best know for being temporarily axed in 2013 after Willie's father compared homosexuality to bestiality.
Robertson set the tone for the debate: "They ain't pants but my girls, they wear long shirts to cover up their lady-parts." When Kaitlyn was ushered on, the bearded hunter channeled his inner Saudi: "I think that's modest."
"It's not so tight you can see a tattoo through it," heaved an increasingly flustered Aidala.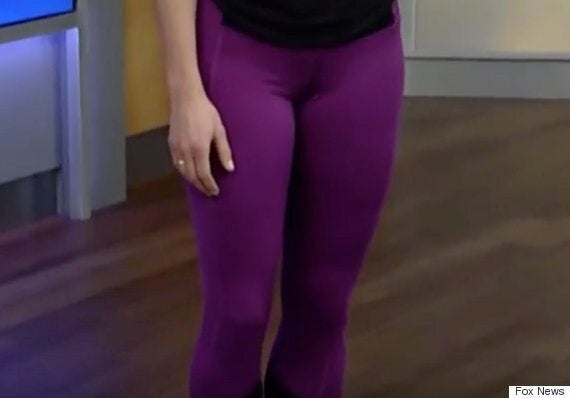 The cameraman's zoom finger got a solid workout...
Amanda was next to perform, praised for being able to "go to church like that." Aidala, near frantic, said she looked "very appropriate" before Doocey slithered: "You've got to cover you tail."
Last came Paige, whose stride onto the set caused Aidala to gasp. Sansone, aware of how was segment was playing out, refused to give his opinion. Aidala jumped in, nearly falling of his chair. "Obviously her physique," he slobbered, "God bless you, you've worked out… there are appropriate places to wear that… going to the mall, probably not."
Robertson sent Paige on her way telling her to "throw a t-shirt on it."
The segment closed with Doocey proclaiming, "I don't think anyone is in too much trouble." Just half the human race, Steve, demeaned on national TV by a mute, an aroused halfwit and a hillbilly in a bandana.