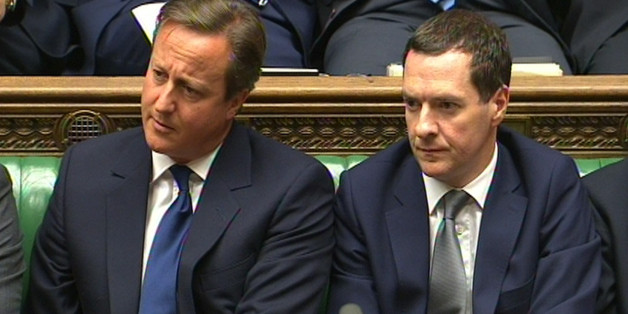 PA/PA Wire
Last week's PMQs saw the prime minister make a truly dreadful 'Back To The Future' joke - will this week's edition be a spooky Halloween themed Q&A? Let's find out - but without all the boring stuff.
Things started off a bit... dry.
1st Q at #PMQs literally about tractor production.

— John Rentoul (@JohnRentoul) October 28, 2015
Tough start to #pmqs for PM asked to comment on tractors built in Basildon

— Carole Walker (@carolewalkercw) October 28, 2015
Then came the question dodging...
JC: "Give Monday night, can the PM guarantee that no one will be worse off due to tax credits cuts" #PMQs

— Owain Gardner (@Odbe34) October 28, 2015
That's a no then #PMQs

— Mikey Smith (@mikeysmith) October 28, 2015
And so Corbyn asked again, and got nothing...
He asks again....again no answer #PMQs

— Corbyn for PM (@Corbyn4nextPM) October 28, 2015
David Cameron couldn't give a straight answer to the question "can the PM answer a simple yes or no question?" #PMQs

— Dave Smith (@crimsonbubbles) October 28, 2015
Then things just descended into the usual shouting mess.
#PMQs (again) pic.twitter.com/6r2iHLsQzq

— Tom Cummings (@T_C1987) October 28, 2015
Corbyn death stares are the best part of politics tbh #PMQs

— Kieran F Boo-reau (@kieranfb) October 28, 2015
If there isn't a 'Jeremy Corbyn stare' Twitter account within 10 minutes Twitter has failed us all #pmqs

— Martin Shapland (@MShapland) October 28, 2015
Forcing Jeremy to repeat the same question over and over again:
4 times now...Corbyn poking the bruise caused by tax credits #PMQs

— Owen Bennett (@owenjbennett) October 28, 2015
Prime minister refuses four times ( so far ) to answer the question will people be worse off next April due to tax credit cuts #pmqs

— David Hanson (@DavidHansonMP) October 28, 2015
Corbyn is going to now ask for a 5th time about tax credits....again the PM does not answer #PMQs

— Corbyn for PM (@Corbyn4nextPM) October 28, 2015
But the most shocking part was the almost complete lack of Corbyn's trademark crowdsourced questions.
The first great betrayal: Corbyn appears to have dropped questions from members of the public by emails. Is #PeoplesPMQs dead? #pmqs

— Sebastian Payne (@SebastianEPayne) October 28, 2015
But then he pulled out a question from Karen, the same he had already asked the PM five times. The Tories didn't respond well.
absolute uproar from Tory MPs when Corbyn says he's going to read out a question from the public. bad look. #PMQs

— Jon Stone (@joncstone) October 28, 2015
And there was still no answer.
#PMQs easy Corbyn win. Not answering same question six times in a row is really not a good look.

— Sam 'The Sam' George (@SpamGeorge) October 28, 2015
The SNP came out swinging...
Will the Prime Minister confirm when the findings of the tragic case of Michael Sullivan will be published? #PMQspic.twitter.com/lEEXJu12dk

— The SNP (@theSNP) October 28, 2015
George Osborne didn't look well:
when you've been up all night plotting to destroy the lords #pmqspic.twitter.com/CxkBWDGMcd

— lameboy advance (@ryxnf) October 28, 2015
Neither did Dave:
I think Cameron shat himself at #PMQs...? pic.twitter.com/jz4JLOzOBz

— Pete McCulloch (@thisisnotawar) October 28, 2015
Sharon Hodgson coined a new nickname for the PM:
"Dave the Dinner Snatcher" has quite a ring to it! #PMQs

— Aaron James (@aaronjamesf1) October 28, 2015
Prompting Cameron to commit to keeping universal free infant school meals, but the public were sceptical:
"We'll keep free school meals" says Cameron. He said he wouldn't cut tax credits. Can't be trusted. #PMQs

— James William Jacobs (@jameswjacobs) October 28, 2015
There was actually a serious question:
"Please can we do more" -Tory MP Stephen Phillips asks about #Yemen at #PMQs, highlights high levels of malnutrition pic.twitter.com/LyNnYReTnl

— Joseph Willits (@josephwillits) October 28, 2015
But, most of all, this entire ordeal could be summed up in one tweet:
JC: Will the PM answer the question?

PRIME MINISTER GETS TO HIS FEET

PM: Your (checks crib sheet) mum.

CHEERS FROM TORY BENCHES

October 28, 2015
Oh well, maybe it'll be a bit more civilised next time.