One of Britain's best-selling rap artists last night gave an emotional account of his drive to break down the stigma and taboo surrounding suicide on national television.
Professor Green, who has long campaigned for better treatment of men with mental health illnesses, led by example when he told viewers of BBC 2's ' Newsnight' on Tuesday: "Don't think less of yourself for crying".
The musician has spoken out before frequently about losing his father to suicide after a bitter battle with depression, and for years pioneered new ways to push for greater emotional support for men.
Suicide remains the single greatest cause of death for men under 40.
But talking hours after his latest documentary, 'Suicide And Me', aired, Green said he hoped the programme would "change the perception of people who take their own lives" and dispel the ignorance around men's mental health issues.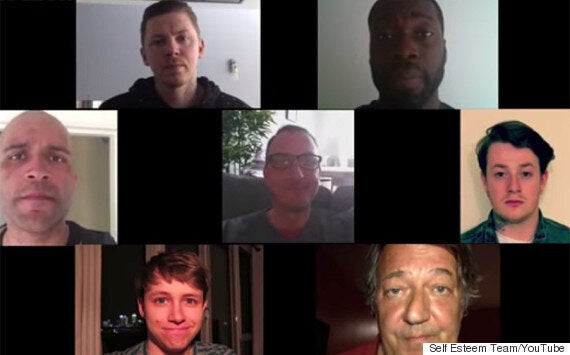 Green appearing in a previous campaign with other prominent stars
"To think about what anyone goes through, and this is one thing I hope comes from the programme, is that we change the perception of people who take their own lives," the 30-year-old told presenter Evan Davis.
"Because there's this ignorance towards it, which only helps the taboo and creates more stigma around it.
"People who take their own lives are not selfish, they often think quite the opposite - and that's what I hope changes."
Asked by the Newsnight frontman what Green would say to him [his father] now, the artist replied in a tearful exchange: "My dad? You muppet - you idiot."
After the interview concluded, Green tweeted in response to some reactions on social media and by other news organisations.
He posted: "'Reduced to tears' is a terrible turn of phrase and exactly where we are going wrong as humans. Don't think less of yourself for crying X."
Hundreds piled in to congratulate Green on his performance, praising his bravery and honesty.
Green, who's real name is Stephen Manderson, lost his father seven years ago.
When he began making a separate documentary about suicide he discovered one of his dad's brothers had also hanged himself and another had died in a diabetic coma, believed to have been self-inflicted.
Useful websites and helplines:
HuffPost UK is partnering with Southbank Centre's Being A Man Festival, taking place 27 - 29 November. It will focus on lighthearted, serious and challenging issues facing boys and men in the 21st century. There will be talks and debates, concerts, performances, comedy and workshops with contributions from over 200 speakers and performers, including Akala, Frankie Boyle, David Baddiel and Kellie Maloney. Day passes are £15, 3-day passes are £35. For more information, visit the website or call 0844 847 9944.