Most travellers usually have to stay in an airport transit zone for a matter of hours, but one Iraqi Kurdish refugee family has been stuck inside a Moscow airport for a jarring six weeks.
The zone is home to Khasan Aman Ando and his four children as they attempt to claim Russian asylum, after having their passports seized over accusations of forgery.
Settling in what used to be a smoking area in Terminal E of the airport, they made the journey after fleeing from their hometown in Iraq, which is currently under siege from Islamic State (IS).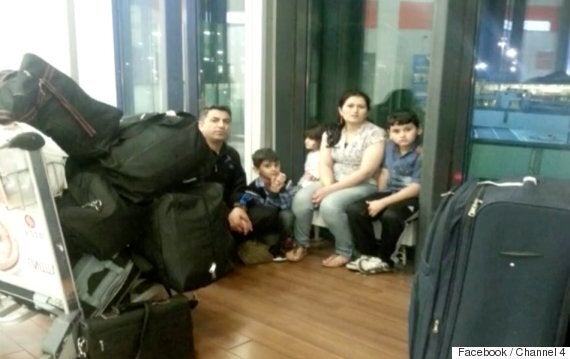 The family have been stuck in the airport for six weeks
According to reports, authorities have since confirmed the authenticity of their travel documents, but Russian migration officials are still denying the family refugee status, their last ruling heard on 14 October.
The Russian Federal Security Service since opened a criminal investigation into the family for attempting to cross the border illegally. The case currently stands unresolved, leaving them to live inside the transit zone.
The Moscow Times reported the consequences for leaving the zone: "If they step outside of it, it will constitute an illegal crossing of the border, a crime punishable by up to six years in prison if committed deliberately by a group."
The family's lawyer, Roza Akhmedova, spoke out about the detention in September: "According to the UN convention on refugees, asylum seekers who cannot return to their home country because of threats to their lives there cannot be prosecuted even if they cross borders illegally," she told the Moscow Times.
Despite this Russian officials have not yet released the family and it's unclear how much longer they will have to wait.
In an interview with Russian news service Meduza, the father of the family, Khasan said: "Despite all that's happened to us here, I don't want to return home."
The airport that they are residing in once provided shelter to Edward Snowden. The fugitive spent a total of 40 days in the confines of Sheremetyevo airport transit zone in 2013.
Popular in the Community