Holliday took to Twitter on 26 October to call out models who get paid to pose for plus size brands - but refuse to use the label.
This isn't the first time the size 26 model has spoken out about the issue, in an interview with HuffPost UK Style she said that far from finding the term offensive, it is one she has chosen to "embrace".
"I embrace the term plus size. I'm plus size. It's just a word," she said. "I think people that want separation from the word are focusing on the wrong thing.
"Until there's more diversity within our industry - until we're seeing different body types and skin tones in the plus size industry - we shouldn't give a shit about the term plus size. It's just wasted energy."
Both Melissa McCarthy and Jameela Jamil have recently launched size inclusive clothing ranges in an attempt to do away with size segregation.
"We really shouldn't be putting a label on size, fashion is for all and I think confidence and happiness is more important than dress labels," Jamil said of her range with Simply Be, which ranges from size UK 10 to 32.
McCarthy also agrees that the term 'plus size' shouldn't exist at all, telling Refinery 29: "Women come in all sizes. Seventy percent of women in the United States are a size 14 (UK 16) or above, and that's technically 'plus-size,' so you're taking your biggest category of people and telling them, 'You're not really worthy.' I find that very strange."
Earlier this year Australian model Stefania Ferrario started the #droptheplus campaign, urging companies to ditch the term 'plus size' and refer to all models as simply 'models'.
The 21-year-old, who is the face of Dita von Teese's lingerie line, posted the above photo on Instagram with the caption: "I am a model. FULL STOP. Unfortunately in the modelling industry if you're above a US size 4 you are considered plus size, and so I'm often labeled a "plus-size" model. I do NOT find this empowering."
Model Ashley Graham is also uncomfortable with labelling models according to their size. She revealed to HuffPost UK Style this month that she has been "brainwashed" into calling herself plus size.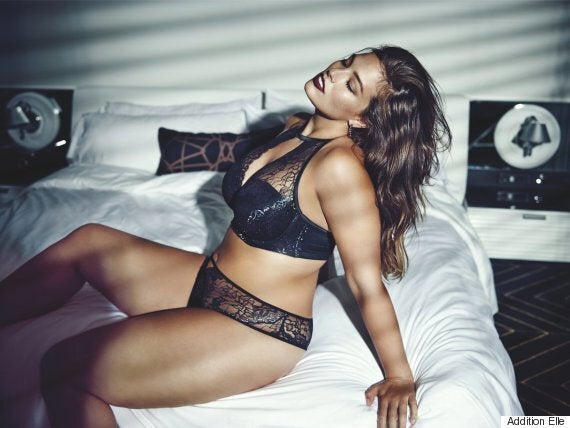 "Labels don't need to be involved with anything. Especially when you're describing a woman," Graham said - and on that, we have to agree.
Popular in the Community