The Scottish Labour Party has been forced to take down its latest campaign video after it misspelled the word 'generation'.
The party has been mercilessly mocked for the typo which mixed-up the 'a' and the 't' and that appeared at the heart of the video introducing new leader Kezia Dugdale.
It appears the error wasn't spotted by party officials and was only noticed when eagle-eyed viewers posted screenshots of the gaffe on Twitter. The video has since been removed.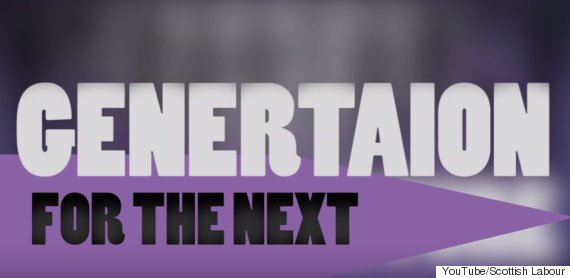 The typo was quickly spotted by eagle-eyed viewers
The Labour Party's Scottish arm is currently holding its annual conference in Perth. The video, entitled "Take a fresh look" was intended to support its central campaign theme ahead of next year's Scottish Parliament elections.
But after the video went viral for the wrong reasons, everyone is reveling in the unfortunate mistake...
I hope @scottishlabour have a good conference in Preth! #illgetmycoat #generation https://t.co/mwWSqeACtR

— Nicola Sturgeon (@NicolaSturgeon) October 30, 2015
Yer da proofreads Labour'ss PPBs

— Magnus Jamieson (@Magnus_Jamieson) October 30, 2015
It took precisely 98 minutes from the start of #ScotLab15 for the first fuck-up. Great stuff. #genertaion pic.twitter.com/CxG49qYLMa

— Jamie Ross (@JamieRoss7) October 30, 2015
@JamieRoss7 Eductaion standards are slipping.

— Aaron Bell (@AaronBell80) October 30, 2015
.@BBCScotlandNews @scottishlabour

I still prefer this one

#ScottishLabour pic.twitter.com/TXTUk6fSDV

— Richard Baillie (@the_real_rich_) October 30, 2015
More shocking evidence of poor literacy under @theSNP - @scottishlabour unable to spell, in its own PPB #genertaion pic.twitter.com/syhIr5y61B

— Severin Carrell (@severincarrell) October 30, 2015
But it's not the only embarrassment for the party this week.
On Thursday, Dugdale appeared on the BBC's Question Time programme, delivering an awkward call-to-arms during the broadcast in Edinburgh.
"We are in terrible trouble, I recognise that. It's why I went for the job, because I believe the values of the Labour party are as relevant now as they have ever been," she said.
"Believing in the potential of people and using the power of government to realise that potential, that's the Labour way, I want to build a fairer and more equal country and I think over the next few weeks and months you'll see a Labour policy platform coming forward which will inspire you once again."
But after the perplexed audience failed to react, presenter David Dimbleby quipped: "Met with silence here".
SEE ALSO:

Question Time Audience Meets Kezia Dugdale's Rallying Cry With Defiant, Awkward Silence