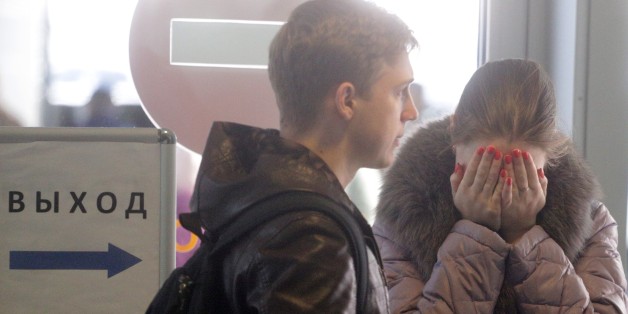 Anadolu Agency via Getty Images
An Islamic State claim that it brought down the Russian plane that crashed in Egypt with the loss of 224 lives, is "almost certainly nonsense", an expert has said.
The Airbus A-321 was bound for St Petersburg when it crashed shortly after taking off from the resort of Sharm el-Sheikh.
According to FlightTracker, the plane was above 30,000 feet when it suddenly slowed and lost altitude.
A Russian site reported the plane had suffered engine trouble with the plane in the weeks before the crash.
But a group linked to IS, also known as Isil, Isis or Daesh, circulated a statement on Twitter claiming it had shot the plane down.
According to The Guardian, the statement said: "Soldiers of the Caliphate were able to bring down a Russian plane above Sinai Province with at least 220 Russian crusaders aboard.
"They were all killed, praise be to God. O Russians, you and your allies take note that you are not safe in Muslims lands or their skies.
"The killing of dozens daily in Syria with bombs from your planes will bring woe to you. Just as you are killing others, you too will be killed, God willing."
The statement did not specify how they were "able to down" the plane and Russian officials were reportedly sceptical.
Keen observers of the Islamist terror group and its allies doubted they had the equipment to shoot down an airliner at its cruising altitude of 31,000 feet.
Shiraz Maher said the statement appeared genuine but the claim it made was "almost certainly nonsense".
Islamic State (Wilyah Sinai) claims it downed Russian airliner earlier today. Almost certainly nonsense. (But claim itself looks authentic).

— Shiraz Maher (@ShirazMaher) October 31, 2015
Eliot Higgins, who runs investigative journalism website Belingcat, said the man-portable MANPADs the group could have would not be able to shoot a plane down at that height.
MANPADS wouldn't be able to get close to a jet at 30,000+ feet, their flight ceiling is closer to 10,000 feet https://t.co/e3cJOREP0E

— Eliot Higgins (@EliotHiggins) October 31, 2015
Two experts said it was possible IS planted a bomb on the plane but both remained sceptical and said it could prove a false claim, which IS has made before.
PT: (3) is least likely (#Egypt not known to have lost AD/SAM systems). Option (2) is feasible, but #ISIS has history of (1) - Bardo Museum.

— Charles Lister (@Charles_Lister) October 31, 2015
#ISIS's claim of responsibility (if true) points to 2 possibility: Bomb inside plane, or the plane was shot down as it was trying to land

— Michael Horowitz (@michaelh992) October 31, 2015
#ISIS statement says it made the plane crash, does not specify how, which leaves a lot of space to argue this is BS, or argue regarding mo

— Michael Horowitz (@michaelh992) October 31, 2015