Now the wannabe is making a name for himself for something other than singing and dancing badly, thanks to his love of dressing up.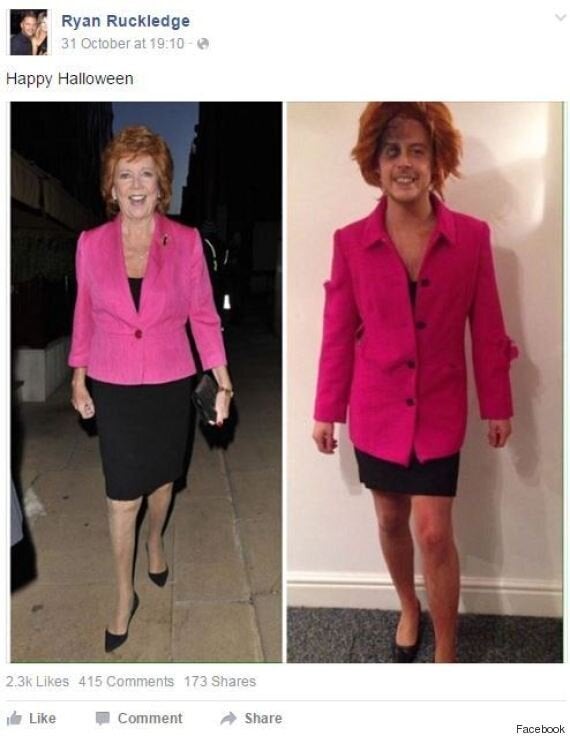 In a video he shared on Facebook, Ryan is seen wearing a pink blazer, black skirt and clutching 'Blind Date' cue card in his hands, but also sports a bruised eye and bloody legs.
Unhappy fans of Cilla quickly dubbed the costume 'sick.'
"[You're] sick she only died about 3/4months back???! [You] think that's ok?! What she got to do with Halloween??!" one said.
Another added: "I'm all up for a joke but this is insensitive -she's only been gone a couple of months."
"Hows it funny dressing up as a dead singer? You are definitely what Simon Cowell has said about you!" another said.
Not everyone was offended though, with some asking what the problem was.
"People need a sense of humour!" one said.
Another added: "I thought it was hilarious ! People need to lighten up and get a sense of humour."
Despite his outfit of choice, the 23-year-old defended his decision to dress up as the former 'Blind Date' presenter, who died in August at her Spanish villa.
"Anyone giving me shit needs to suck a shit out of my arse with a Capri sun straw!" he wrote on Facebook. "People go as dead Amy Winehous, Elvis, Marilyn Monroe! There isn't a "right" time to dress as someone who isn't alive they are unfortunately all still dead! I'm no different to anyone else! Cilla police pipe down!"
In another post, he added: "So both outfits I've worn have been criticised. Next year I'll go back to basics and wear a bin bag, glow in the dark teeth and them stick on fingers. I thought this country and banter and a sense of humour, obviously most don't!"