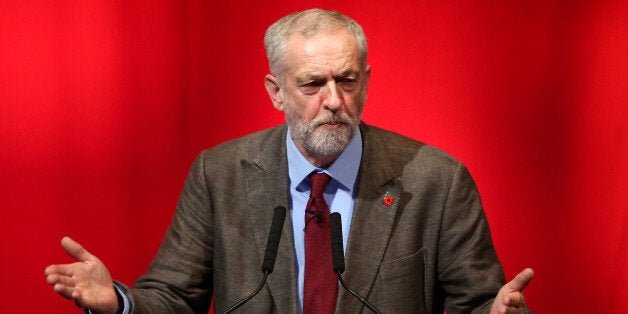 Labour has clashed with the BBC over claims that it has given the Stop War Coalition a veto over the party's policy on UK military action in Syria.
The broadcaster reported that Shadow Foreign Minister Catherine West told a meeting last night that Labour would "consult" the peace campaigners before making any decision on extending RAF strikes from Iraq.
But Labour sources have told The Huffington Post UK that Ms West is upset with the way the BBC reported her words, and she claims that she was referring to consulting Syrians rather than Stop The War.
At the event in Parliament, Ms West had said Russia's intervention in Syria meant that David Cameron's plans to stage a Commons vote on UK action now seemed a "remote" prospect.
She added: "Obviously, if that proposal does come forward, then we will need to speak to you and talk to you about what your view on that is."
Labour says that the "you" in her remarks was the Syrians in the room, many of whom have argued for more British help.
Activist Peter Tatchell also tweeted from the meeting that Syrians were being silenced by Stop the War campaigners during the event.
He told The Huffington Post today shadow international development secretary Diane Abbott would not allow Syrians to speak. "I was shocked, surprised and saddened by Diane Abbott's unwillingness to invite Assad's victims to express their opinions.," he said.
"Not listening to victims of Assad's war crimes is arrogant, insensitive and appalling. It has a whiff of 'we know best' and Syrian views 'don't count'."
A Labour source told HuffPost UK: "Catherine is clear that she was talking to the Syrians in the room who were being shouted down by some of the people present who seemed unwilling to listen to the voices of those most affected by the civil war."
"Hilary [Benn] visited refugees in the Zaatari camp and in the host community in Jordan last week where he met some of the people who have been so traumatised by this war. He is clear that David Cameron has not given the Syrian crisis sufficient attention and has failed to come up with a comprehensive plan."
Labour also "smell a rat" over the overnight stories that Mr Cameron has shelved plans for a Commons vote on fresh military action in Syria.
One source said: "It is all part of the desperate political management exercise the Government have engaged in for three years now, where the question has miraculously been 'what will Labour do on airstrikes', when they cannot answer 'what is your actual plan to win the peace?'"
Jeremy Corbyn stepped down as chairman of Stop The War after being elected Labour leader in September.
Former Labour minister Tom Harris attacked the idea of consulting the anti-war group and said it would lead him to "give up".
According to Guido Fawkes, the ex-MP said the group was "a madcap coalition of trots, Islamists and anti-west fury chimps" and should be ignored rather than involved in Labour policy making.
He said on Facebook: "Labour has jumped the shark. It has gone from 'a bit bonkers' to 'irredeemable' in the space of a single day.And I give up. That's it for me. Giving. Up."
Downing Street moved today to deny claims Cameron has abandoned plans to hold a Commons vote on widening the RAF bombing campaign.
Also today an influential Commons committee cautioned that the prime minister should not ask MPs to back military action against IS in Syria until he can show there is a clear plan both to defeat the jihadists and to end the bloody civil war in the Middle East state.
In a major blow to the prime minister's hopes of extending the British mission, the Tory-led Foreign Affairs Select Committee said it was "not yet persuaded" that Mr Cameron would be able to address their concerns.
The strongly-worded report warned that RAF strikes would only have a "marginal effect", but could be a "distraction" and compromise efforts to find a diplomatic solution to the crisis.