Chrystal McCadden, from Michigan, was called to pick up her son, Caden, from Brownell STEM Academy because he was acting out in class.
Upon arriving at the school, Ms McCadden found her child stood in the hallway with his hands behind his back. When she asked her son to be released from the handcuffs, she was told that the officer could not find the keys.
Caden McCadden was handcuffed by a police officer
Ms McCadden said that officers told her that Caden was put in handcuffs because he would not sit down.
Police said that they handcuffed the boy for the safety of himself and others.
Speaking to local press, WEYI-TV, Ms McCadden said: "I was told that when he [the police officer] walked in, he told my son 'if you don't sit down I'm going to handcuff you'."
She added: "He don't deserve to be in no handcuffs. He ain't in here with no knife. He ain't in here with no gun."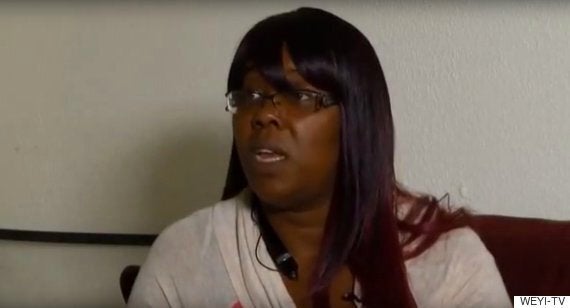 Chrystal McCadden said he son did not 'deserve' to be put in handcuffs
The incident has caused outrage on Twitter.
The boy was put in handcuffs during an after school programme. The incident happened on October 12, but Ms McCadden said that she struggled to get information from the school and police until she went to the press.
Flint Police Chief James Tolbert said in a statement: "The officer used handcuffs to restrain the child to prevent injury to the child or others. That action is being carefully reviewed. The city will publicly release the results of its investigation upon completion."
He added: "It is our model to engage children in a positive light that will foster trust and respect, this incident does not reflect positively on that model."
The worried mother said that she does not want this to happen to another student, explaining: "I don't want a kid to feel like, 'if I do something wrong, I'm going to get handcuffed'."
The school district is looking into the incident.
The police chief said he has scheduled training for all officers geared toward interactions with children.
Popular in the Community