Commuters were facing chaos outside London Bridge this morning in day two of the DLR strike.
Pictures show long queues of people standing in the rain on Wednesday morning as industrial action forced Tube bosses to close the station every few minutes to avoid over-crowding.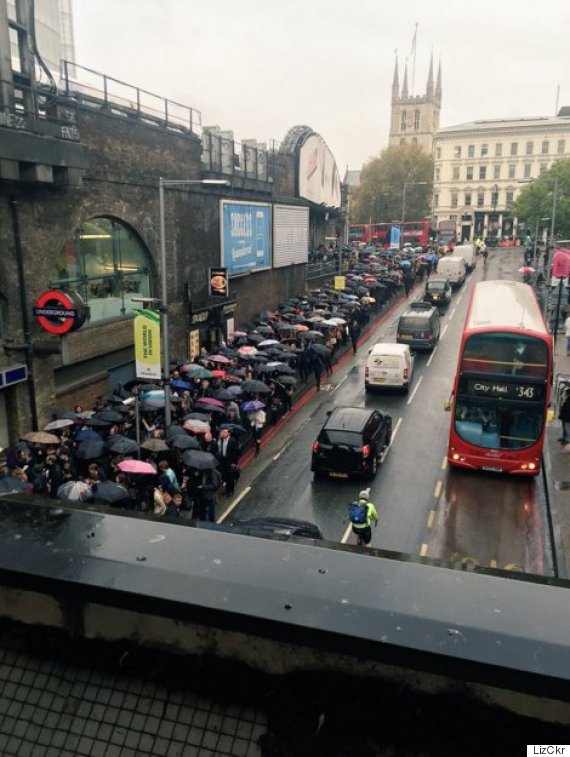 Passers-by took photos of the the crowds, which were queueing around the corner.
The DLR (Docklands Light Railway) strike ends at 4am.
Images of the mayhem this morning are reminiscent of scenes caught earlier this year which saw desperate commuters jumping over ticket barriers after services ground to a halt following signalling problems.
SEE ALSO:
Sea of humanity at #LondonBridge due to the #dlrstrike pic.twitter.com/T1LXE535cl

— Niche Laboratory (@NicheLaboratory) November 4, 2015
Britain nicely depicted in one photo at London Bridge station. Train delays, queuing and umbrellas. #London pic.twitter.com/bScLEJ4cHq

— Digital Stuart (@DigitalStuart) November 4, 2015
Queues for #londonbridge tube stretched around the 'block' this morning. #dlrstrike #reformtransport pic.twitter.com/RadclX8pRz

— Will Mosseri-Marlio (@wmosserimarlio) November 4, 2015
Queues to access Jubilee and Northern lines at London Bridge are spilling out on to the road. pic.twitter.com/yKfBI6RagE

— Adam Shaw (@Shawzybaws) November 4, 2015
London Bridge is exit only. DLR strikes probably not helping either. pic.twitter.com/rt7B0F9Db4

— Liane Lau (@Lianewclau) November 4, 2015
@TfLTravelAlerts @TfL London Bridge underground station is in complete chaos due to @LondonDLR strike. Awful. pic.twitter.com/IKFKANOmQI

— Ayo Onatade (@Shotsblog) November 4, 2015
Chaos. Glad I am walking.. #DLRstrike #LondonBridge pic.twitter.com/8wBpD2hlkv

— Chloe (@Chloe__Nichols) November 4, 2015
The queue of people trying to get into London Bridge. Just got off a train and they're trying to make me join that. pic.twitter.com/aKP1AdvySt

— Pariss Sloan (@ParissSloan) November 4, 2015
Thanks to the man who (un)knowingly kept me dry with his big brolly whilst we waited in the London Bridge queues pic.twitter.com/b5A5cXmSBm

— Stephanie Baillie (@StephBaillie88) November 4, 2015
The current situation 👎🏾☔️ #londonbridge #dlrstrike pic.twitter.com/mmtCEWCh5Q

— Shareen (@beautyl0v3r) November 4, 2015
12mins to exit London Bridge! No wonder there's hundreds queuing! @TfL it's carnage!! #chaos #london #dlrstrike pic.twitter.com/E5YTKLBwfR

— Kate Davies (@KateDavies_UK) November 4, 2015
London Bridge looking like a scene from a zombie horror as gates are closed to prevent overcrowding. pic.twitter.com/Kf5JWoFCIk

— George Downs (@DownsDigital) November 4, 2015
The DLR was closed yesterday and today as part of a 48-our strike after last ditch talks failed.
Up to 300,000 people were expected to be affected by the industrial action.
KeolisAmey, the company charged with oversight of DLR services, is accused of trying to "bulldoze" changes to working conditions and of a "creeping culture of bullying and intimidation of staff."
Although the DLR is 'driverless', operating completely automatically, each train must carry a "captain" - the person charged with taking control in the event of an emergency.
If there is no captain on board then no trains are allowed to run.