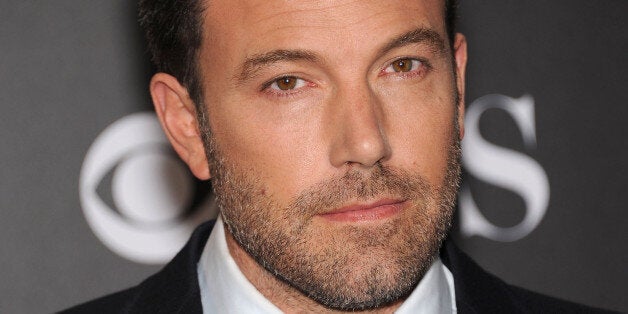 Mail Online have come under fire for body shaming Ben Affleck after an article claimed he had "let himself go".
The article highlighted the actor's "paunch" and "greasy hair", when he was photographed on set of his upcoming film Live By Night.
"His blue T-shirt hugged his paunch and his clean-shaven look revealed a fuller face. His slicked hairdo looked greasy too," the article read.
The site placed before-and-after photos side-by-side with the caption, "Spot the difference: Ben's bod has undergone a marked change since January"
The article went on to link the "plateau" of his body conditioning to his split from wife of 10 years, Jennifer Garner.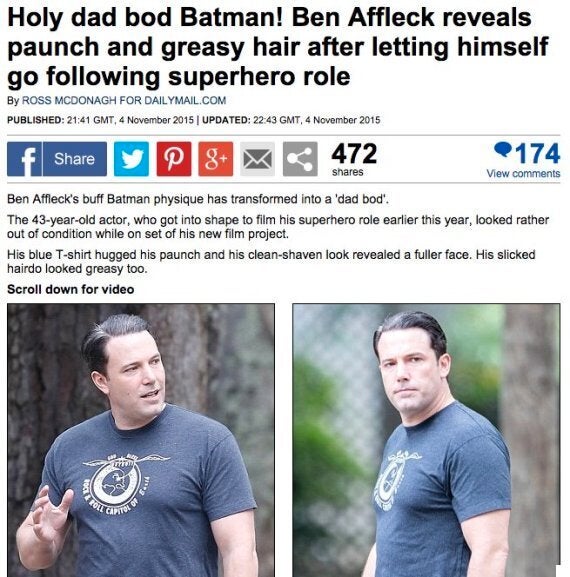 Body image campaigner Leyah Shanks says the article proves women are not the only victims of body-shaming.
"The fact that this is supposed to classify as 'news' is laughable. This mind-bendingly sensationalist article demonstrates clearly how much men face scrutiny for their appearance as well as everyone else," Shanks told HuffPost UK Lifestyle.
"No matter how talented and hard working a person is, they always end up being reduced to nothing more than how they look which is desperately sad. Unfortunately, there is a tendency to attribute self-esteem issues solely to women which is just not the case."
Shanks is concerned that such articles will add to body image pressure facing men.
"In 2015, a year in which so many marked advancements have been made with regards to technology and even equality, body image issues for men have never been more prevalent. Guys of all ages are surrounded by Hulk-like imagery and content like this which is only going to leave them feeling inadequate."
Rivkie Baum, editor of the UK's first plus-size magazine, Slink, agrees.
"It is a shame that it seems to be that in the race for equality this has resulted in men being just as body shamed as women.
Men are facing an increasing media backlash and the general belief that we have a right or a duty to critique one another's appearance needs to be rectified," Baum told HuffPost UK Lifestyle.
"Those in the public eye might be used to it but the widely accepted practice of assessing celebrities looks continues to plague and make this unacceptable practice common place in our everyday life. Where does it all end?"
The news site posted an article describing former rugby star, Cohen, as being "beefy", "portlier" and "out of shape" since his retirement from the sport.