Activists have also promised to pressure the network's advertisers into joining their cause. Trump currently leads the Republican primary race in many national polls, with SNL boasting a long history of corralling presidential hopefuls onto the show. However, there has been mounting protests outside "30 Rock" in New York, many demonstrators waving placards calling Trump a racist and excoriating NBC for giving him a platform.
Using the hashtag #RacismIsntFunny, activists have demanded a different host be found for the show, sentiments echoed in a letter sent to the SNL's producer and the president of NBCUniversal. "There's mounting evidence that Donald Trump's racist demagoguery is resulting in real-world violence and physical and verbal intimidation," said Mushed Zaheed, deputy political director of Credo Action.
Zaheed belongs to just one of the many Hispanic and Latino advocacy group that is calling Trump's removal. Juan Escalante, the director of digital campaigns for America's Voice, warned that NBC was risking ostracizing Latino viewers with Saturday's broadcast. "There's nothing funny about mass deportation," he said. "There's nothing funny about separating families. There's nothing funny about calling Mexicans 'rapists'."
In an online advert for the forthcoming show, Trump appears alongside regular cast member Cecily Strong, a skit in which the frontrunner mocks his constant bragging. In another spot, Trump is shown belittling his main political rival Ben Carson, calling him a "total loser." The billionaire has been heavily criticised for his far-right stance towards immigrants in recent months.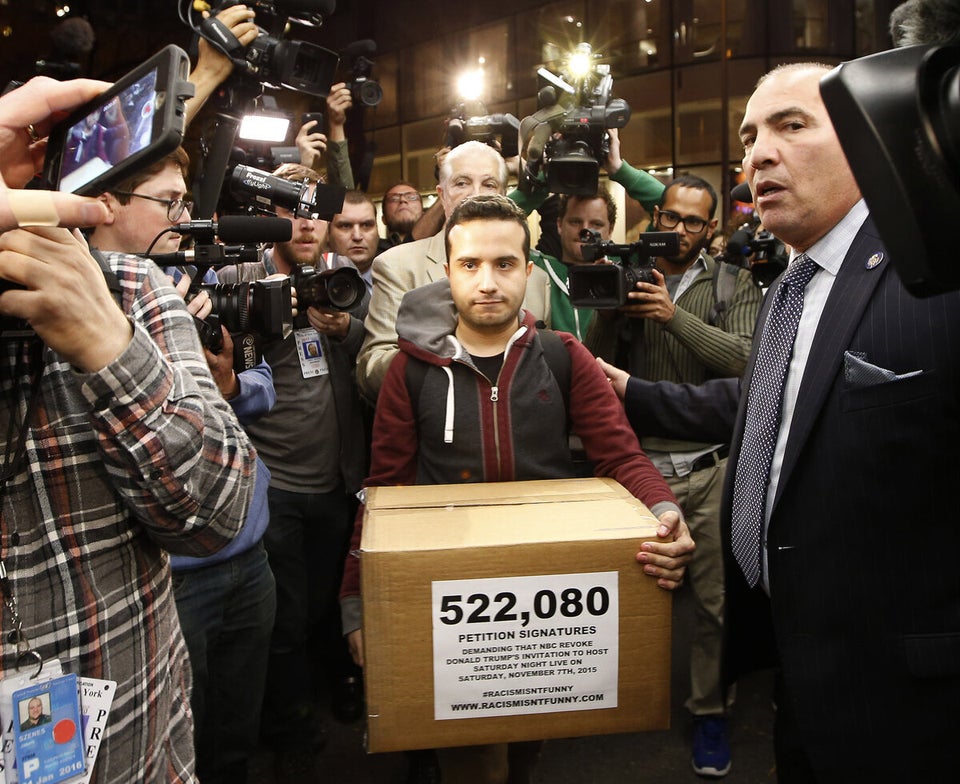 Donald Trump Protest
Related