The first flights bringing stranded British holidaymakers back from Sharm el-Sheikh have landed in the UK . An easyJet flight landed at Gatwick at 4.25pm while another touched down at Luton just after 5.30pm. However, confusion and chaos reigned for most of the day as conflicting information was given about whether their flights would take off.
The latest developments saw Monarch announce that only two of five flights it intended to fly today from Sharm el-Sheikh to the UK will be permitted by the Egyptian authorities.
Two EasyJet flights have taken off and the first has just arrived at Gatwick.
Egyptian authorities have only allowed UK flights eight slots to depart from the airport.
The situation descended into further shambles as Thomas Cook said that of four return flights it expected to operate today, only one will be permitted to land at the airport, forcing at lest one of others to turn back.
Earlier, the country's authorities announced that just eight flights will depart from Sharm el-Sheikh for the UK, rather than the 29 initially expected as frustrated passengers waited for information.
One of the two EasyJet planes has landed at Gatwick, the other, bound for Luton, which was about to land when this article went live.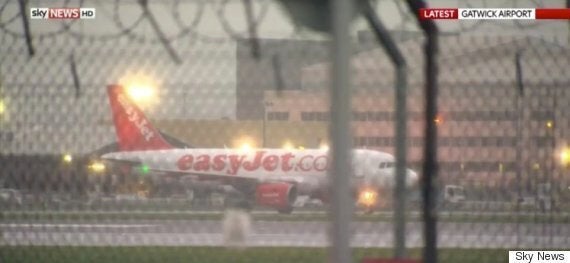 The EasyJet flight arriving at Gatwick
Thomas Cook told HuffPost UK their one flight was currently in the air and heading for Birmingham and East Midlands Airports.
The EasyJet flight is bound for Luton and is still in the air.
Monarch confirmed that its two flights are in the air, bound for Birmingham and Gatwick with 214 and 211 passengers aboard respectively.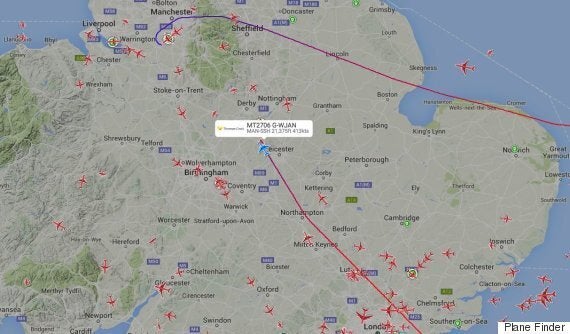 A Thomas Cook flight to Sharm-El-Sheikh that turned around half way through, returning to Manchester
Related