A member of the Question Time audience sent the studio into hysterical laughter on Thursday's episode of the BBC politics programme.
The man-turned-comedian took aim at the 'top-heavy' Metropolitan Police in response to presenter David Dimbleby's question on cuts to the force.
Issuing Labour's response, Chuka Umunna said: "They are cutting the original Met budget, its going to be a third less what it was after these cuts. We do not believe that the police can sustain that."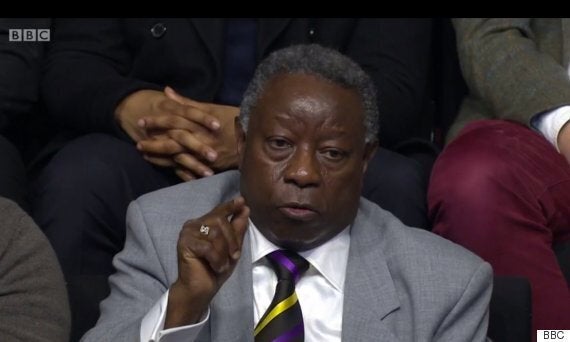 The man shone during his moment in the limelight
Dimbleby then pointed towards an awaiting audience member, who couldn't wait for his moment in the limelight.
"A contributing factor to our problems in the police, is mismanagement. What we can afford. It is too top heavy, you've got chief constables, deputy chief constables, assistant chief constables, deputy assistant chief constables, i'm not making this up - it's a fact," he said, to the amusement of the crowd.
The presenter then tried to interviene, but he persisted: "It's a fact, it's a fact. After that you've got chief superintendents, then you got superintendents, then you've got chief inspectors, then you get inspector, then you get to sergeants. Then, and THEN look at the salaries - 200,000 pounds a year. I'm not talking about the extras," he finished to rapturous applause.
Her suggestion followed a young woman telling the audience she was leaving London because housing is unaffordable. "There's plenty of room to build luxury houses, luxury apartments," the woman said. "I can't afford them."
The live show from Tottenham, London, also featured panelists Justine Greening, Jenny Jones and Peter Hitchens.