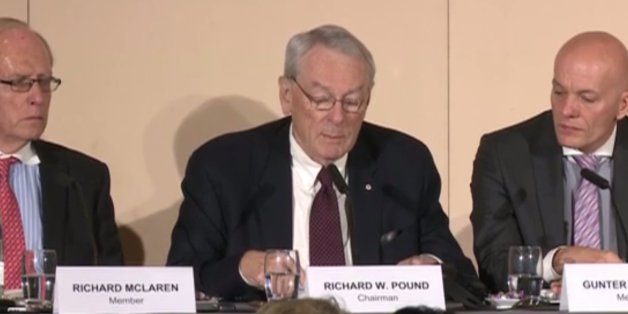 BBC
London's 2012 Olympics were more or less sabotaged by allowing Russian athletes to compete when they should have been suspended for doping violations, an "alarming" report into illicit drug taking has found.
The World Anti-Doping Agency's independent commission directly accused the Russian government of being complicit in widespread blood doping and cover ups.
It says Russia's athletics federation should be suspended and its track and field athletes banned from competing until the country cleans up its act on doping.
WADA report key findings

A lifetime ban was recommended for five athletes, four coaches and another administrator.
Among those recommended were London 2012 Olympic gold medallist Mariya Savinova-Farnosova and bronze medalist Ekaterina Poistogova
Report recommends that Russia's athletics federation should be suspended and its track and field athletes banned from competition (which would include the 2016 Olympics) until the country cleans up its act.
Athletes said they feared for their personal safety if they did not subscribe to the "workings of the National Team".
The report found a culture of cheating that was deeply ingrained in all levels of Russian athletics. The mindset was "justified" on the theory that everyone else was cheating as well.
The reported presence of the security services (FSB) within the laboratory setting in Sochi and at the Moscow laboratory, actively imposed an atmosphere of intimidation on laboratory process and staff, and supported allegations of state influence in sports events.
Interpol is set to co-ordinate a global investigation into doping allegations.
The report further recommends that 5 athletes, 4 coaches and an administrator in the Russian programme should be given lifetime doping bans.
Middle-distance runners Mariya Savinova and Ekaterina Poistogova, who won gold and bronze respectively at the London 2012 800m event are alongside long-distance runners Kristina Ugarova and Tatyana Myazina, and current indoor champion Anastasiya Bazdyreva in being specifically recommended for ultimate sanction.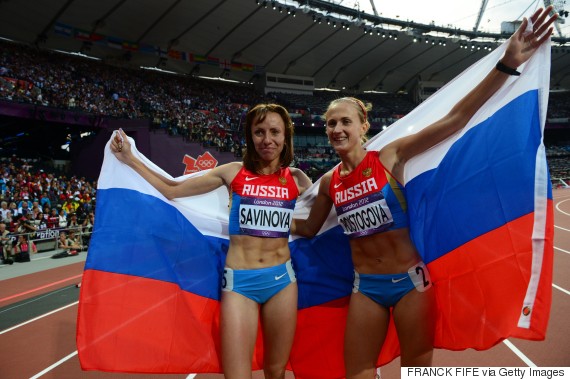 London 2012 gold medalist Mariya Savinova and bronze medal winner Ekaterina Poistogova are recommended for lifetime bans in the report
The report's authors also allege that Russia has been using an obscure laboratory on the outskirts of Moscow to help cover up widespread doping, possibly by pre-screening athletes' doping samples and ditching those that test positive.
Russia's 'obscure laboratory'

The Laboratory of the Moscow Committee of Sport for Identification for Prohibited Substances in Athlete Samples lies somewhere on the outskirts of Moscow, in a an industrial zone about 10 kilometres (6 miles) from the city centre.
The WADA commission says whistleblowers and confidential witnesses corroborated that this lab "is involved in the destruction and the cover-up of what would otherwise be positive doping tests."
The WADA says the Russian anti-doping agency and Russian athletics federation must know about the lab, stating "it is not credible to believe" that they didn't.
The lab oversaw testing for the 2014 Sochi Olympics and is due to work on FIFA's anti-doping program for the 2018 World Cup.
The report carries statements from Russian athletes who confirmed widespread use of performance enhancing drugs, Evgeniya Pecherina, a well-known discus thrower, estimated as many as "99%" of the national team were doping.
It also suggests that Russian competitors felt compelled to take performance enhancers on the threat of repercussions.
"Leave it, otherwise you might accidently get in a car accident," one athlete told the authors.
Savinova, who won gold during the London event admitted in footage obtained that she used the banned steroid oxandrolone, and ran alongside Poistogova who won bronze in the same race. Both are now facing calls for lifetime bans.
The pair's performance in 2012 saw two top-flight athletes miss out on medals. South Africa's Caster Semenya won silver, eclipsed to the gold by Savinova's time of 1:56:19. Pamela Jelimo of Kenya and Alysia Johnson Montano of the U.S. also lost out.
Gold, bronze medalists should get life bans, WADA panel says. Caster Semenya won silver. Alysia Montano was fifth. pic.twitter.com/NvqFdt8PyU

— Nick Zaccardi (@nzaccardi) November 9, 2015
The report's lead author and former WADA president Dick Pound said during a press conference: "We have identified many suspicious cases and reported on the Russian laboratory.
"We've found cover-ups, we've found destruction of samples in the laboratories and we've found payments of money in order to conceal doping tests."
There can be "no other possible conclusion" that Russian athletes' doping was state sponsored, he said.
On the claims around the London 2012 Olympics, the report finds:
As a result of this widespread inaction, the Olympic Games in London were, in a sense, sabotaged by the admission of athletes who should have not been competing, and could have been prevented from competing, were it not for the collective and inexplicable laissez-fair policy adopted by the IAAF, ARAF and RUSADA.
Interpol, the European crime agency, says it will conduct an international investigation into the allegations raised by the report.
The report was commissioned after a German television documentary which alleged up to "99%" of the Russian Olympics team used doping and employed a sophisticated tactics to fool tests and regulators.
The programme, which aired in December 2014, included secret filming of conversations with Russian athletes who admitted to using banned substances. In one exchange, 800m runner Mariya Savinova, who won gold at the 2012 London Olympics, is reported as saying: "How else are we meant to do it?"
The newly-published report is said to show "a different scale of corruption", even compared with recent allegations at Fifa, its co-author Richard McLaren said.
Athletics' international governing body, the IAAF, has come under pressure in recent weeks to clarify its influence over the Russian federation's handling of suspected doping.
The current head of the IAAF, former track and field runner Sebastian Coe, has said the report is "alarming"
IAAF President Sebastian Coe announced the decision after the release of a report by a World Anti-Doping Agency panel that accused Russia of state-sponsored doping in athletics.
Coe says he "has taken the urgent step" of seeking approval from the IAAF council to consider sanctions against the Russian Athletics Federation.
He says "these sanctions could include provisional and full suspension and the removal of future IAAF events" and that the organisation "will do whatever it takes to protect the clean athletes and rebuild trust in our sport."
Last week it was revealed the ex-head of the IAAF, Lamine Diack, was being investigated over allegations he took payments for modifying sanctions against Russians found to be doping.
Responding to the report, the Russian sports minister Vitaly Mutko pointed towards the difference between the athletics world governing body and the WADA independent commission.
"A commission created by WADA has completed its work," he said. "It released a document which describes certain things and makes conclusions and certain recommendations.
"Don't mix up these things – the commission cannot suspend anyone. We will release our statement about the results of the news conference."
Next week the executive board of WADA will meet in America to discuss the report's findings and to plan the next steps.
Who Are The Athletes Involved?